The Flavours of Fingal County Show returns to Newbridge House and Farm, Donabate on the 2nd and 3rd of July from 11am – 6pm. The two-day extravaganza will combine the sights and sounds of an agricultural show with an unforgettable food and family fun experience.
Along with the music, food, competitions and shopping that's on offer, the Fingal Village located in the walled garden behind Newbridge House, will be hosting face painters, a mobile Library, a Pop-up Gaeltacht and giveaways for the kids. Also represented will be Fingal County Council's Community Development Office, Age Friendly Ireland, and the Fingal Inclusion Team.
Admission is free for visitors arriving on foot or by public transport. Fingal County Council are also offering a shuttle bus option to and from Balbriggan, Skerries/Lusk, Swords and Donabate/Portrane. Places must be pre-booked on marathoncoaches.ie and cost just €10 for a family ticket. If you are travelling by car, pre-book your car parking ticket for the best value. Early bird car tickets are priced at €15.00 online or €30.00 on the day.
Visit flavoursoffingal.ie for more information
Fáilte Isteach in Holywell Community Centre Swords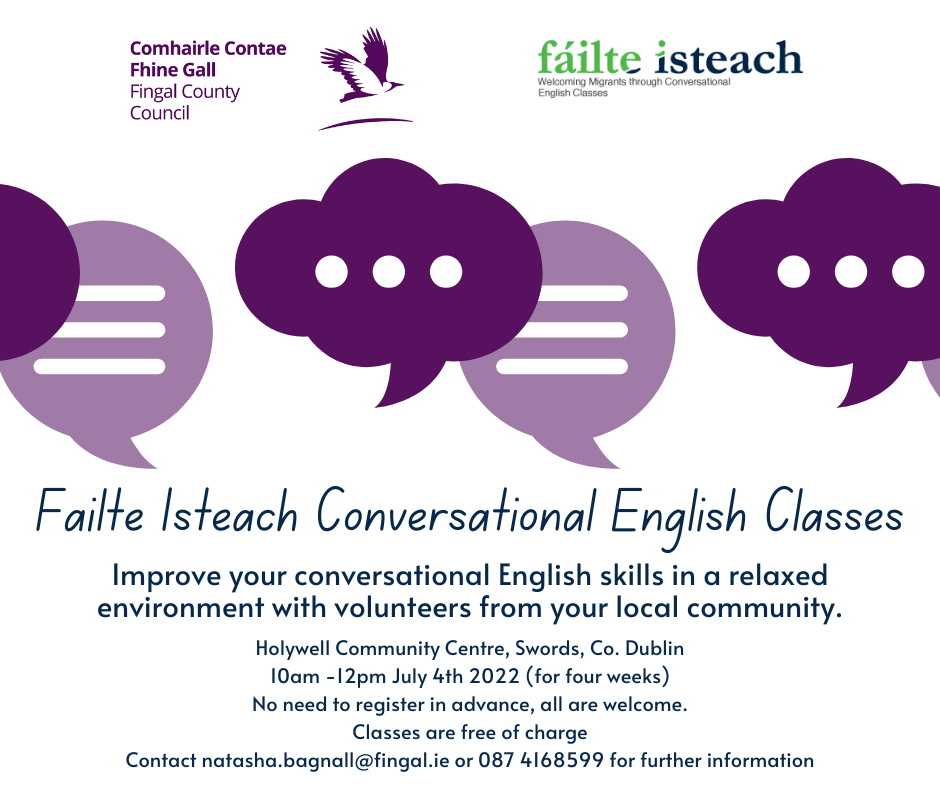 Fáilte Isteach's Conversational English Classes are starting in Holywell Community Centre in Swords. With the support of Fingal's Community Development Office, the class aims to provide valuable conversational skills to those integrating into life in Ireland.
Starting on the 4th of July, and running for four weeks from 10am-12pm, the classes welcome migrants from all backgrounds, and have two Ukrainian tutors with a focus on engaging Ukrainian refugees living in the surrounding area.
Maria, a previous Fáilte Isteach student from Poland, described her positive experience saying:
'We can socialise with Irish people and other nationalities, but best of all we learn to speak and write in English and this is the most important thing. We love to come to these English classes.'
Along with Donabate/Portrane Community Centre, Holywell is the second Centre in the Fingal Community Facilities Network to host a Fáilte Isteach group.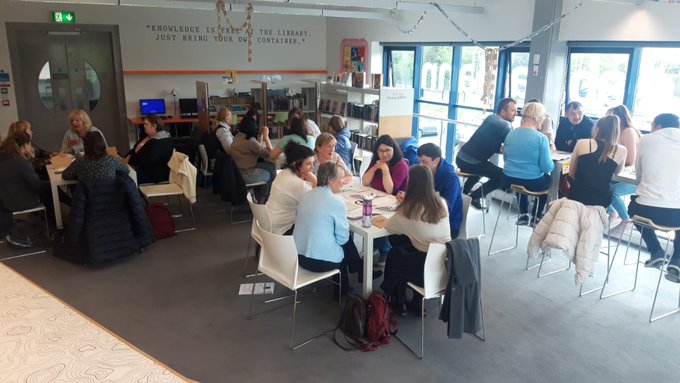 For more information, visit thirdageireland.ie/failte-isteach
Ireland Community Play Fund Open for Applications
The €80,000 Ireland Community Play Fund, supported by the LEGO Foundation as part of its Build a World of Play campaign, will enable communities across Ireland to start proven learning through play projects.
The new fund, which will be administered by non-profit community engagement platform ChangeX, will support up to 35 teams across Ireland to start new community projects. Groups can choose from a carefully-curated portfolio of 13 proven play ideas that have already had a positive impact in other communities around the world.
Find out more and apply: Community Play Fund (changex.org)