Castaheany Community Centre will be open on Saturdays from 10am – 2pm from the 5th of November. By increasing their opening hours, the Centre aims to improve their services and further meet the needs of the community.
They are currently taking bookings for the hall and meeting rooms as well as offering half price pitch bookings for the first four weeks.
Contact or call in to book a space.
Wellbeing Workshops for Inclusion Week
As part of Fingal Inclusion Week, the Community Development Office are collaborating with centre managers in Blakestown and Mountview to bring a number of Health and Wellbeing taster events and activities to the community.
The Parenting Wellbeing Workshop in Blakestown will provide parents with valuable stress-management skills that incorporate breath-work and movement. In Mountview, the Wellbeing Seminar will coincide with the launch of the Community Partner WRAP programme to help participants understand and take responsibility for their mental health.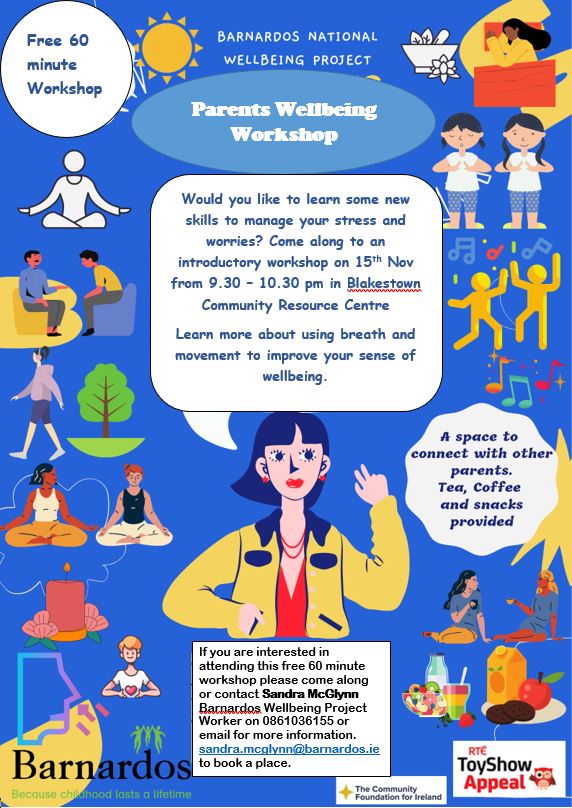 All the taster sessions will be free for participants and if there is a keen interest in these programmes, the Community Development Office will look to bring more of these activities to the community at a low cost.
Diswellstown Job Vacancy
Balbriggan's First Ever Panto coming soon
This December, head down to Castleland Community Centre for Balbriggan's first ever panto. Featuring your favourite characters (and some maybe not so favourite).
Tickets starting at just €15, visit the link below to book:
🎟️ Tickets: www.gr8events.ie/balbrigganpanto22