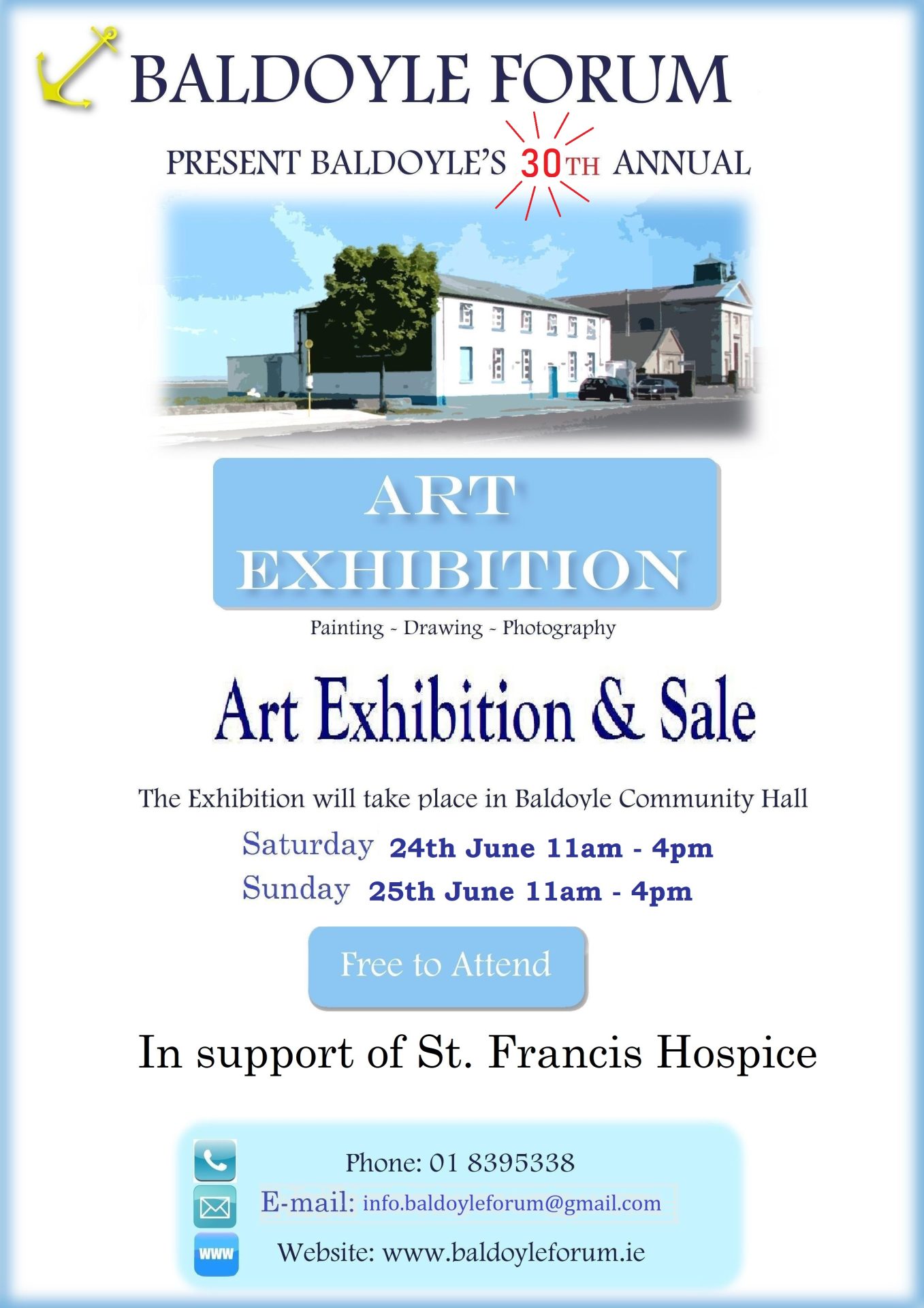 BALDOYLE 30th ART EXHIBITION IN AID OF ST. FRANCIS HOSPICE
Baldoyle Forum are inviting all local artists and photographers to come and display their pieces for sale in Baldoyle Community Hall for the 30th Annual Art Exhibition where record sales were achieved last year and a cheque given to St. Francis Hospice. 
The Art Exhibition is a community event held at the end of June every year by the Baldoyle Forum.
This year it will be held on the 24th and 25th June and is open to the public from 11am to 4pm. Over the two days a "Best in Show" competition will be held and prizes to be won, kindly sponsored by Blue Ribbon.
For more information contact Liz Turner @ or call 01-8395338.
D15 Stay and play toy library Summer schedule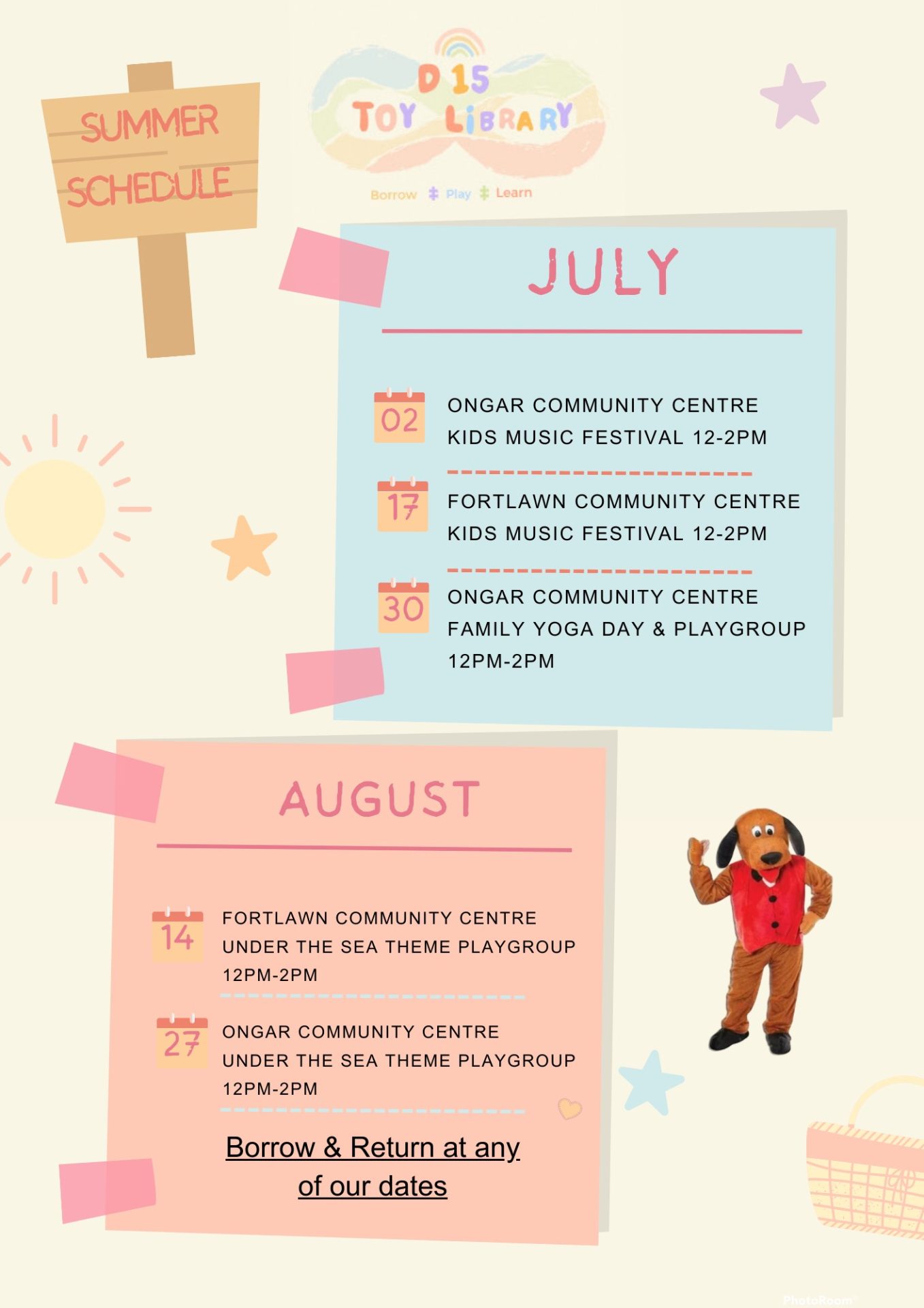 D15 Stay & Play Toy Library are hosting a toddler Summer music festival (suitable for ages 0 -7) in Ongar CC on the 2nd of July and in Fortlawn CC on the 17th of July from 12 to 2pm, will be possible to borrow and return toys on both dates. Tickets are €5 for family's.
The group are also hosting a 'family yoga day and playgroup' on the 30th of July in Ongar CC from 12 to 2pm, an 'under the sea' themed playgroup from 12 to 2pm in Fortlawn CC on the 14th of August and on the 27th in Ongar CC also from 12 to 2pm.
Please also consider families of low income who you might know of through your services who could benefit from borrowing pre owned toys through the group (they can borrow toys at any of the events listed)
Eventbrite links to the toddler Summer music festival events in Ongar CC on the 2nd of July and Fortlawn CC on the 17th of July can be found below-
ONGAR 2nd July-
https://www.eventbrite.com/e/653843662997
FORTLAWN 17th July-
https://www.eventbrite.com/e/653880984627
Applewood and Holywell Community Centre's Summer camps 2023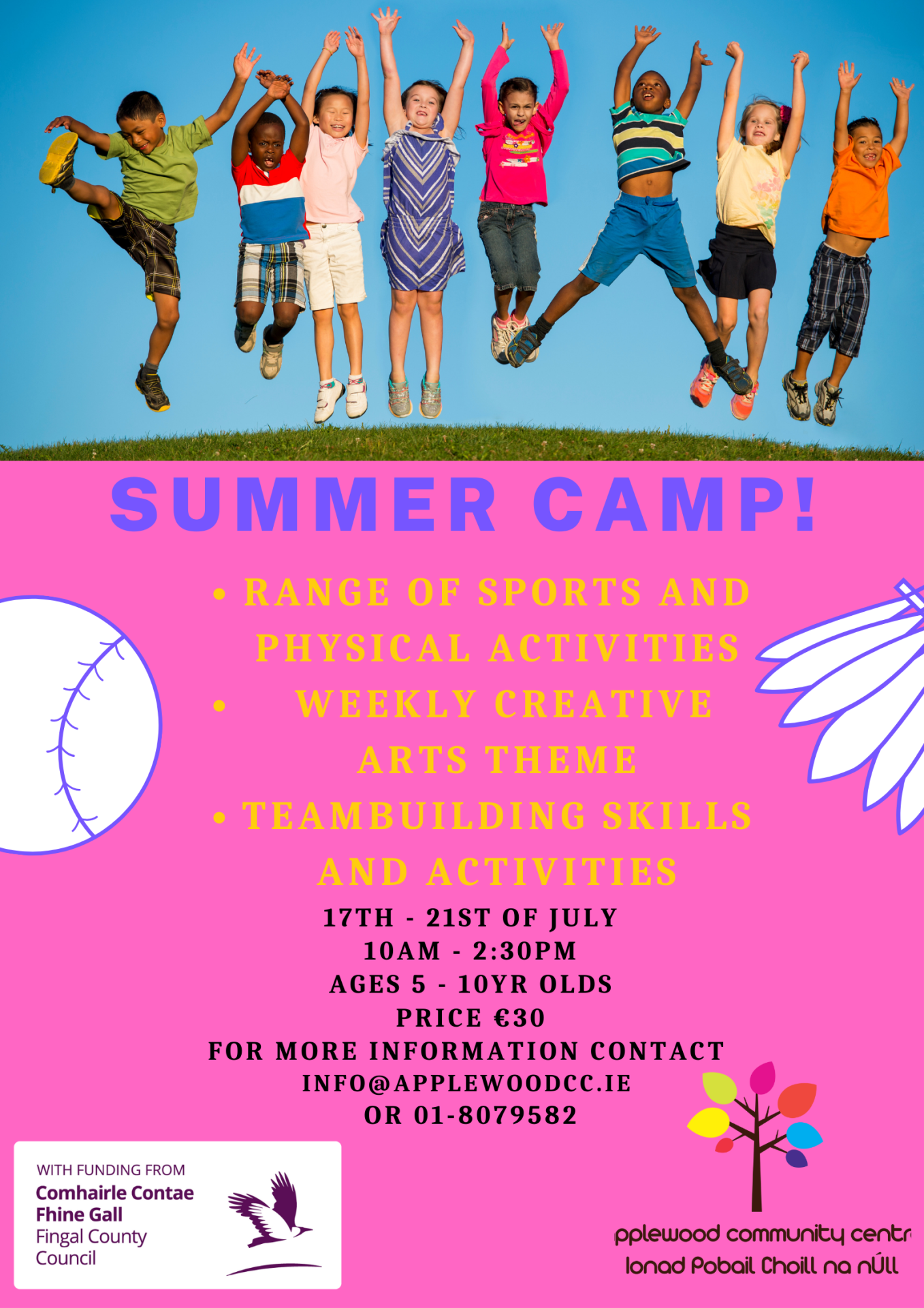 Applewood CC and Holywell CC Summer Camps 2023!!!
Holywell CC Summer camps runs from 10am to 2pm from the 24th to the 28th of July.
Applewood CC from 10am to 2pm from the 17th to the 21st of July.
All activities that will take place at both center's camps are listed in the posters above.
Applications are now open for children aged 5-10 years.
Bookings taken in person at reception at the center's only and are unfortunately cash payment only also at €30.00 per child and no places can be held.
Bookings are also non-transferable so please bare that in mind as well.
Places are limited so book early to avoid disappointment.
For more information email or call 01- 8971010 for Holywell CC / email  or call 01-8079582 for Applewood CC.
Both center's look forward to seeing you all in a few weeks!!!!
Mountview Fortlawn Community Centre celebrate your community events 23rd of June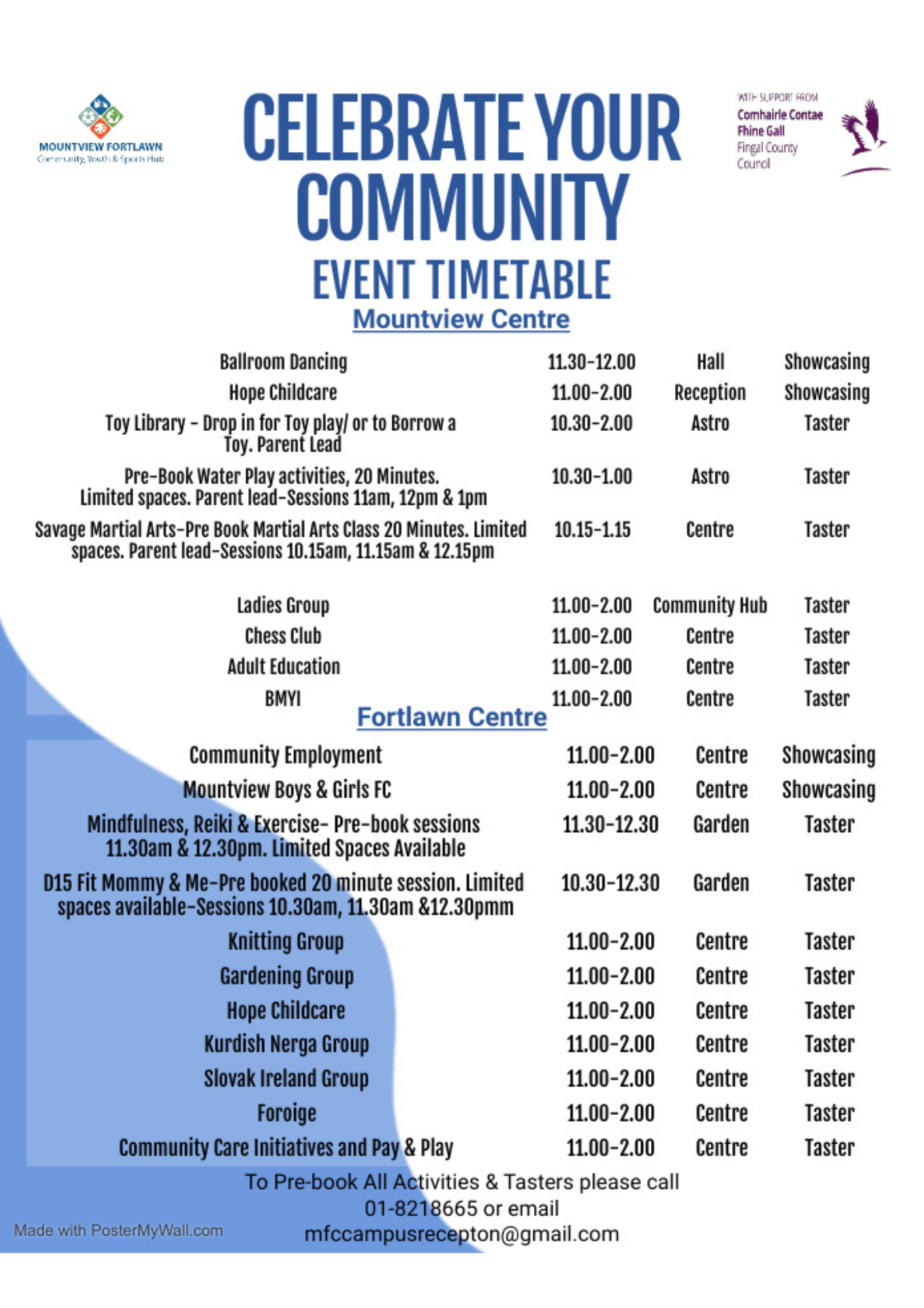 Come and celebrate your Community!
Mountview and Fortlawn Community Centre's are hosting groups and running a programme of activities to 'celebrate your community' on Friday the 23rd of June from 10.30am until 2.00pm.With many groups attending and varied activities taking place, its sure to be a fun filled day. If you are interested to register for the activities – please call 01 8218665 or email .
Corduff Sports Centre Summer camps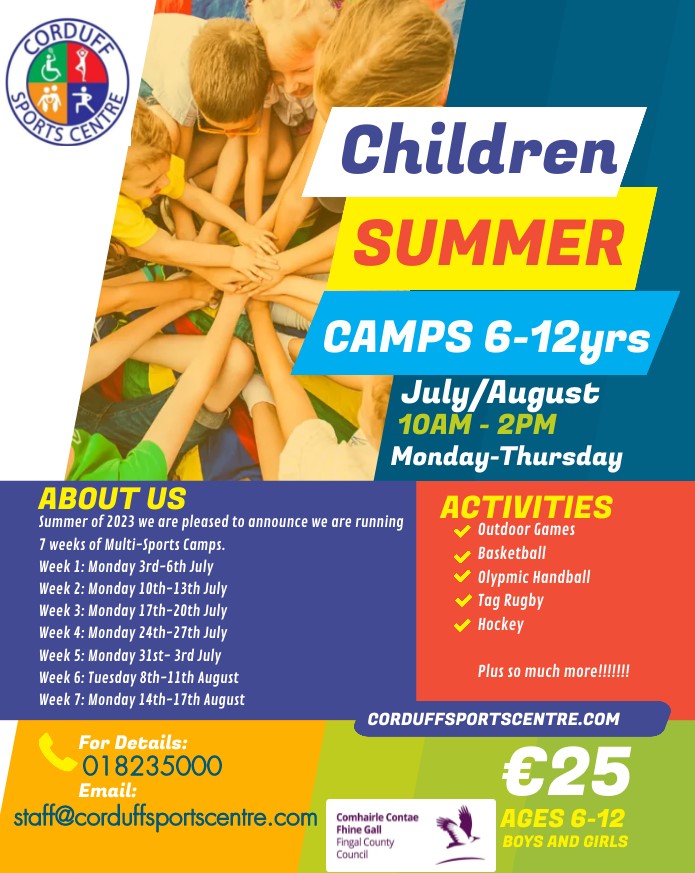 Corduff Sports Centre are running 7 weeks of Multi- Sports camps for children ages 6 to 12 years with a launch this Tuesday the 20th of June with Phoenix FM in attendance. All dates/details and pricing can be found in the poster above. For more information call 01 8235000 or email .