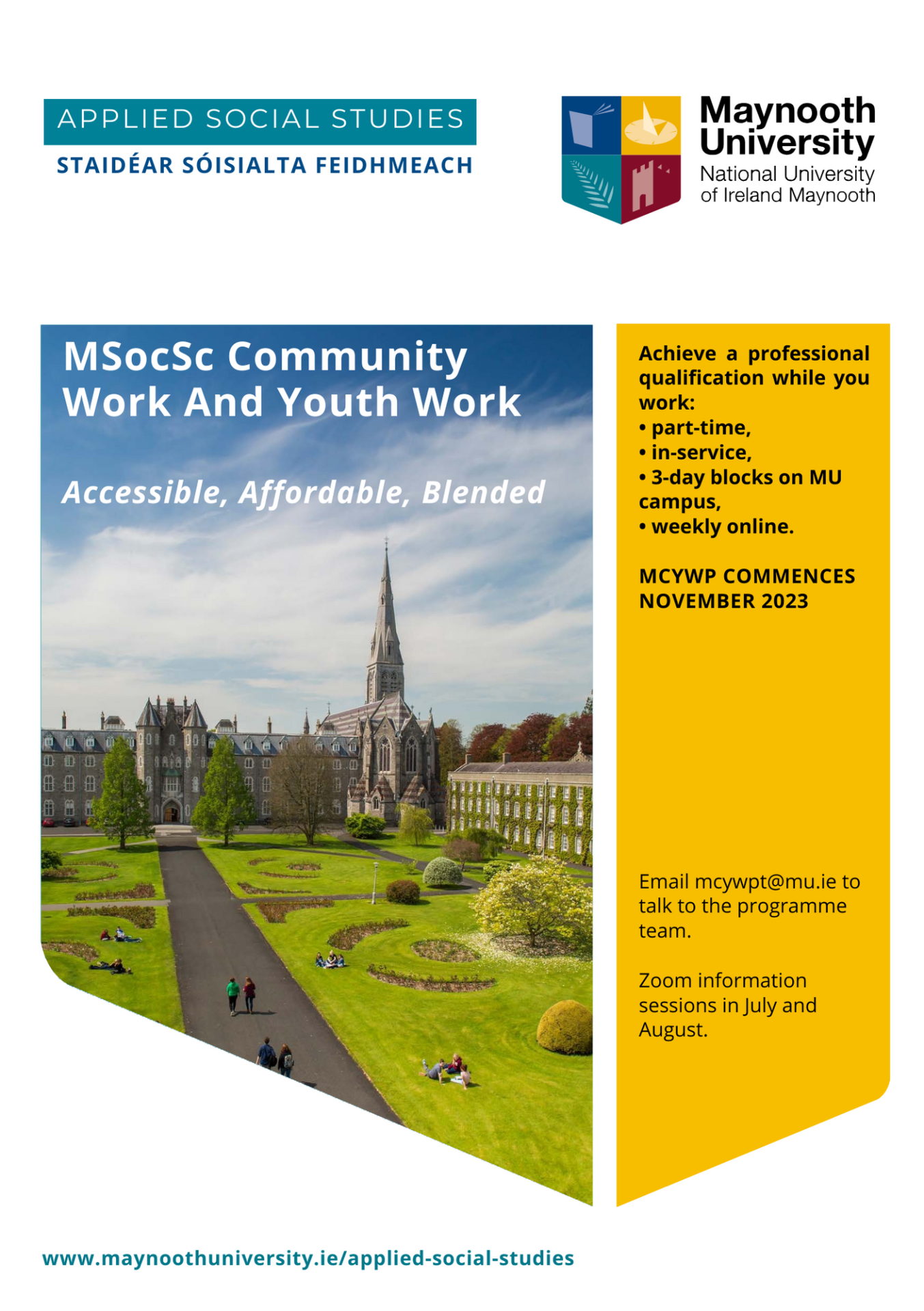 Reinforcing the community work/community development workforce, including through increasing the number of practitioners with access to professional qualifications, is a key concern for the All Ireland Endorsement Body for Community Work Education and Training (AIEB). Two issues of very immediate concern in this regard emerged from the AIEB Education and Training Needs Assessment that was undertaken in a number of areas:
firstly, professional qualifications for practitioners with degrees but not a professional community work qualification
secondly, routes to professional qualifications for those involved in community work in various ways
The AIEB Bursary Fund supported by the Department of Rural and Community Development has been established to support those with degrees currently employed in community work and associated roles to pursue endorsed professional qualifications in 2023 and 2024. As of now the recently modified postgraduate in-service Masters in Community and Youth Work from the Department of Applied Social Studies at Maynooth University is the only postgraduate part-time programme with professional endorsement by AIEB. Attached above is a flier about the Masters programme.
Are currently developing and seeking additional support for an initiative for people employed or involved in community work and associated work but who do not have a degree and/or professional qualifications to commence in 2023 or early 2024. The programme(s) supported through this fund will be those recognized by AIEB and can provide participants with a certified qualification that ensures the foundations essential for further professional studies. Any interested attendees will be kept informed as the initiative develops.
Enquiries about any aspect of the bursary can be made to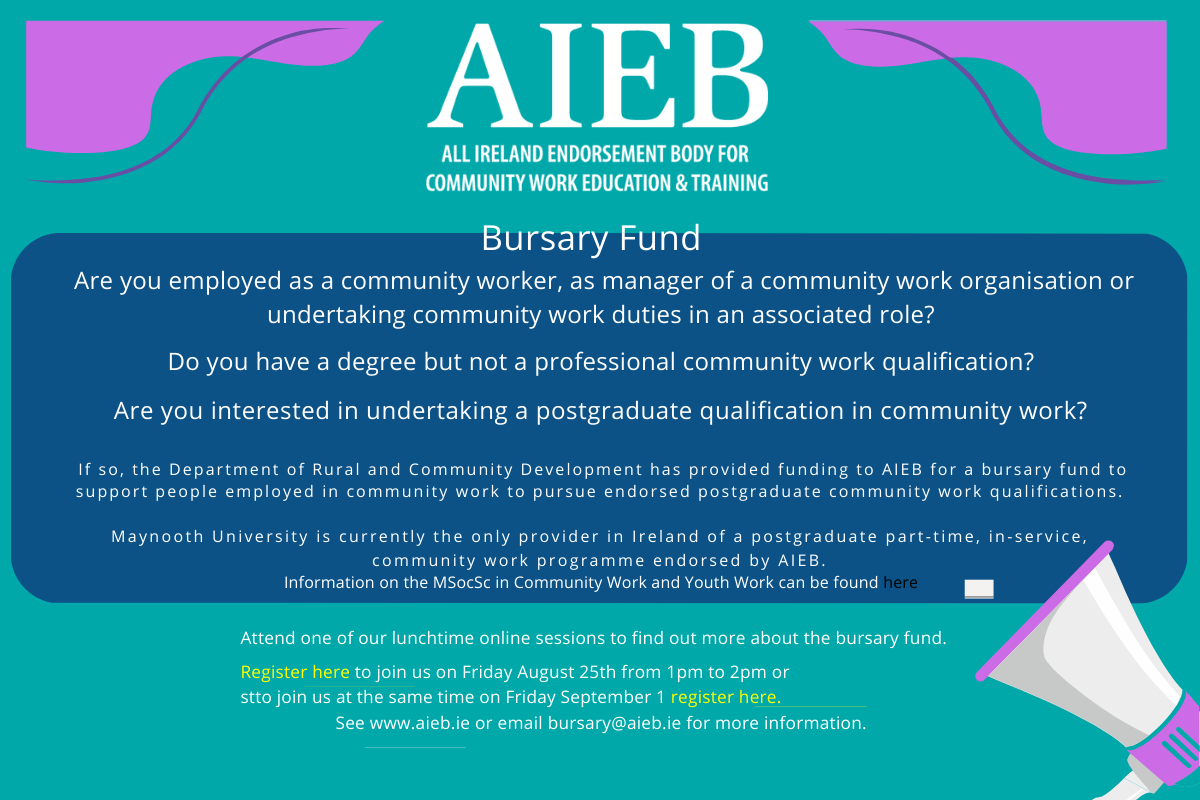 Certified Charity Trustee Programme with TU Dublin

The Level 6 Certified Charity Trustee Programme aims to provide learners with a broad understanding of the governance framework guiding Organisations and an understanding and appreciation of the organisational behaviours within an organisation. This will allow the learner to be informed and confident in their roles.
This predominantly online 1 year part time programme has been designed in partnership with Carmichael and TU Dublin. The aim of this programme is to provide participants with an opportunity to deepen their understanding of their roles and obligations.
Since 2021, Charities have been required to report on their compliance with the Charities Governance Code which is designed to help charity trustees meet their legal duties under the Charities Act 2009. With over 11,000 registered charities in Ireland this programme will assist organisations and their trustees to effectively fulfil their roles within an organisation in line with regulatory framework and to be professionally competent within the team to do so.
All further details including course content can be found here.
Applications are now open. Apply now
Please contact for further information.
Rural Fingal Climate Action training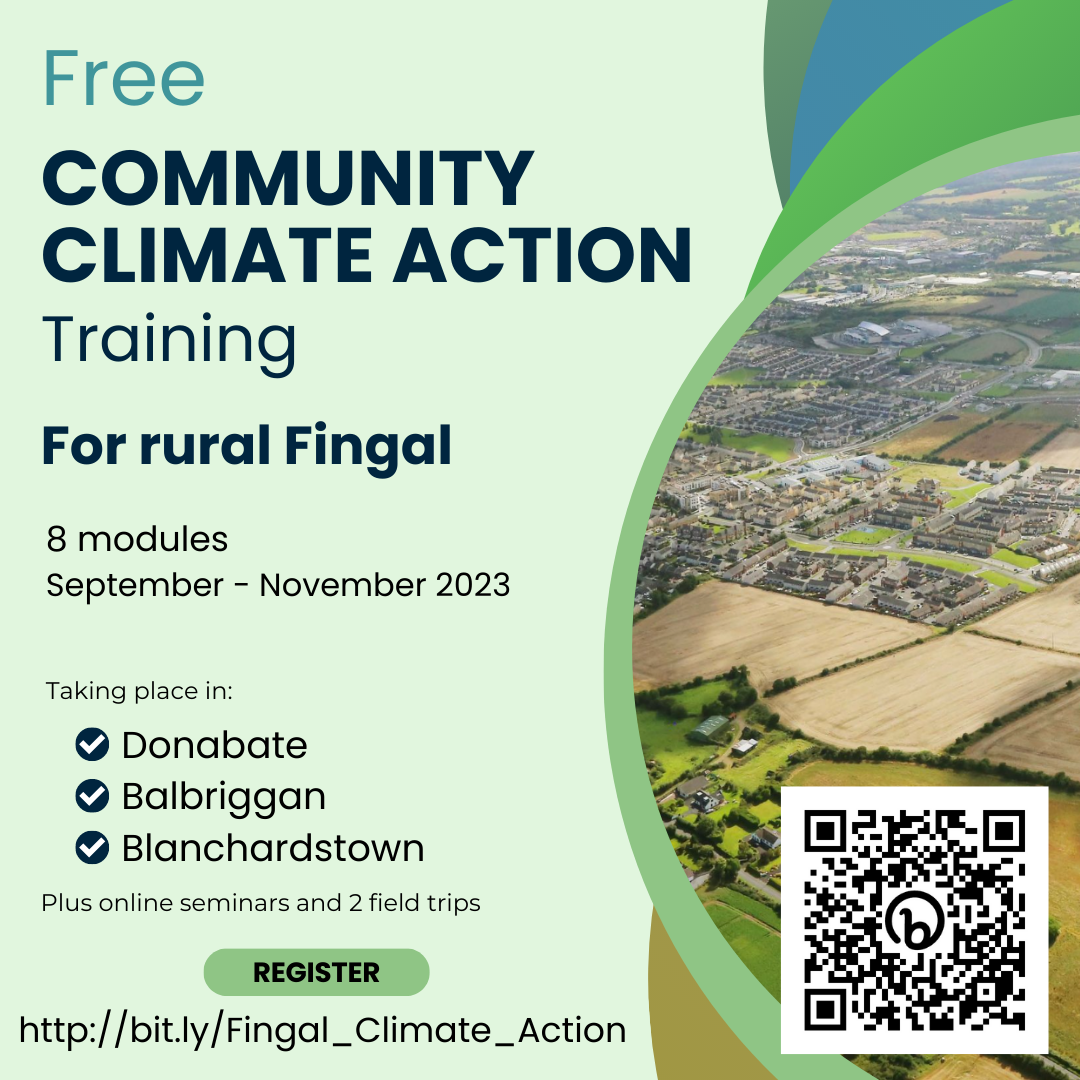 You are invited to a free climate action training programme!
On behalf of the consortium behind the unique training programme, you are invited to take part in a free community climate action training programme, starting next month.
Funded by Dublin Rural LEADER, the "Community Based Climate Adaptation and Mitigation Training for Rural Dublin" programme will be delivered by Global Action Plan, in partnership with the Rediscovery Centre, the Community Resource Network Ireland, Sustainable Energy Community Mentors and FH Wetlands Systems Ltd.
These organisations have come together to develop a complimentary training programme for community groups in rural parts of Dublin, to help them understand the complexities of climate change and the many ways in which local climate action can be effective.
The first training sessions will take place on Monday evening the 18th September in Donabate, Tuesday the 19th of September in Balbriggan and Wednesday the 27th of September in Blanchardstown.
You can register for the free training programme on Eventbrite, using this link:
https://www.eventbrite.com/cc/fingal-climate-adaptation-and-mitigation-2534899
Would also be grateful if you could share the attached poster with any of your groups/contacts
Unlocking the Power of Positive Action
In a world where fear and doomsday scenarios dominate many climate change discussions, this training programme aims to break down barriers, and inspire positive change. The community climate action training programme is designed to inspire individuals and community groups to discover their power as agents of environmental progress.
The organisers are looking forward to meeting lots of people all over rural areas of Fingal, to find out together what each of us can do to help avoid further climate chaos. People are keen to do the right thing, but often don't know where to start. This training programme, which is completely free of charge, will help people take that all important first step. Will not be a lecture, and the consortium don't pretend to know everything. The aim is to bring people on a journey of discovery, and of mutual inspiration.
Seven climate themes
If your group signs up for the training programme, you will be able to explore several facets of climate change, and the many ways in which people can make a difference in their own communities. The programme is structured along 7 key thematic modules. Each module is designed to help participants explore key concepts and identify elements for subsequent action strategies.
Some of the training modules will take the form of in-person sessions in Rathcoole or Newcastle, but there are also online sessions and two field trips to groundbreaking initiatives in the Dublin area.
Sign up now
If you are interested in this training programme, you can register online via https://www.eventbrite.com/cc/fingal-climate-adaptation-and-mitigation-2534899
And any questions you may have on the training programme can contact Global Action Plan on(phone) 01 883 2185 or email .
Global Action Plan CLG. Registered Office: Axis Ballymun, Main Street, Ballymun, Dublin 9, D09 Y9W0.
Ongar/Tyrrelstown Community Centre free Line Dancing classes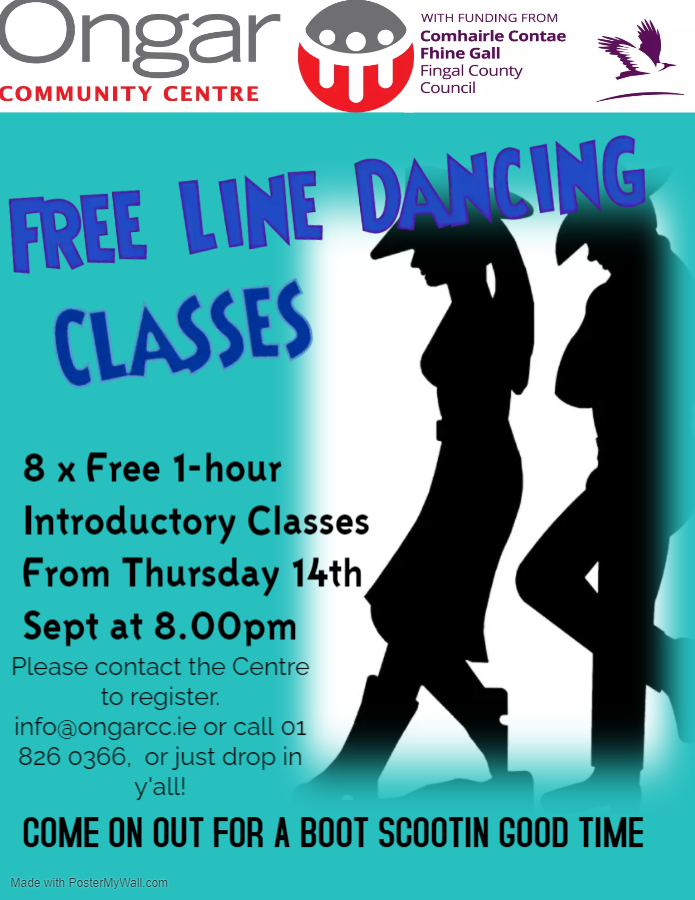 Come out for a boot scootin good time!
Ongar and Tyrrelstown Community Centres are both running 8 x 1 hour free introductory Line Dancing classes open to all.
Ongar CC classes will commence on Thursday the 14th of September at 8.00pm, to register can drop in or email or call the centre on 01 826 0366.
Tyrrelstown CC classes will commence on Thursday the 14th of September at 6.30pm, to register can drop in or email or call the centre on 01 827 4046.
Annual reporting deadline for many charities
Annual reporting deadline for many charities if your charity's financial year ended on the 31st of December 2022, the deadline is fast approaching to complete and submit your annual report form to the Charities Regulator. All charities are required by law to submit an annual report on their finances and activities within 10 months of the end of their financial year. For the many charities with accounting periods running from January to December, the deadline is the 31st of October every year.

Annual reports are submitted through a charity's online Charities Regulator account. They have a range of resources to help charities to complete their annual report form. The dedicated Annual Reporting section on their website sets out the information that charities must provide and includes guidance on the financial information needed. They also provide a simple step-by-step guide and 'How to' video that take you through each stage of the process.

Charities are also required to confirm their compliance with the Charities Governance Code when submitting their annual reports. However, if a charity is not fully compliant or has yet to finish its compliance process, it can still file its annual report. Charities can simply confirm the current status of their charity's compliance with the Charities Governance Code at the time of filing the annual report and amend it later to reflect further progress. It is an offence under the Charities Act 2009 to submit an annual report late. Yet, over 40% of charities failed to file their annual report on time in 2022. The Charities Regulator is currently engaged in a targeted compliance and enforcement initiative in order to bring non-compliant charities into compliance where possible. As part of this work, we are contacting charities and charity trustees that have Annual Reports outstanding for a considerable period to warn them of the possible consequences if they remain in breach of the Act. These include possible enforcement action such as prosecution of the charity and individual charity trustees and /or removal of the charity from the Register of Charities. Charities or charity trustees who wish to check if they are up to date with their Annual Report filing obligations can do so by checking their charity's information on the public Register of Charities.
Free English classes Parslickstown house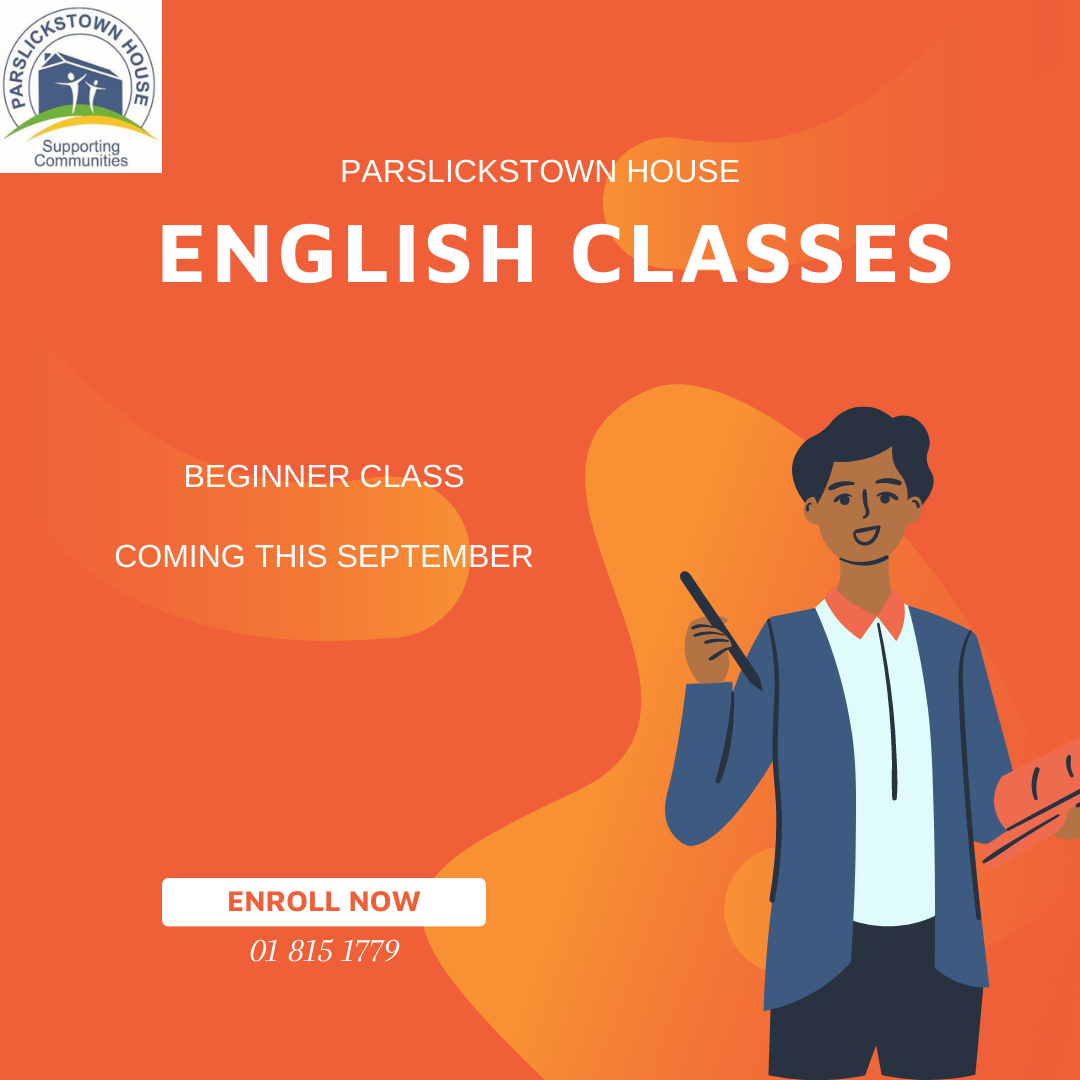 Parslickstown House are hosting a free beginners English language class, starting this September. If you would like to enroll or for more information call the centre on 01 815 1779.
Applewood Community Centre preventing food waste workshop
Applewood Community Centre are hosting a free preventing food waste workshop, provided by Craig Benton. Will take place on Tuesday the 26th of September from 10.00am to 12.00 midday. To register for the workshop scan the QR code in the poster above, with all welcome to attend.
Anti Litter campaign/Elephant in the room Baldoyle Community Hall.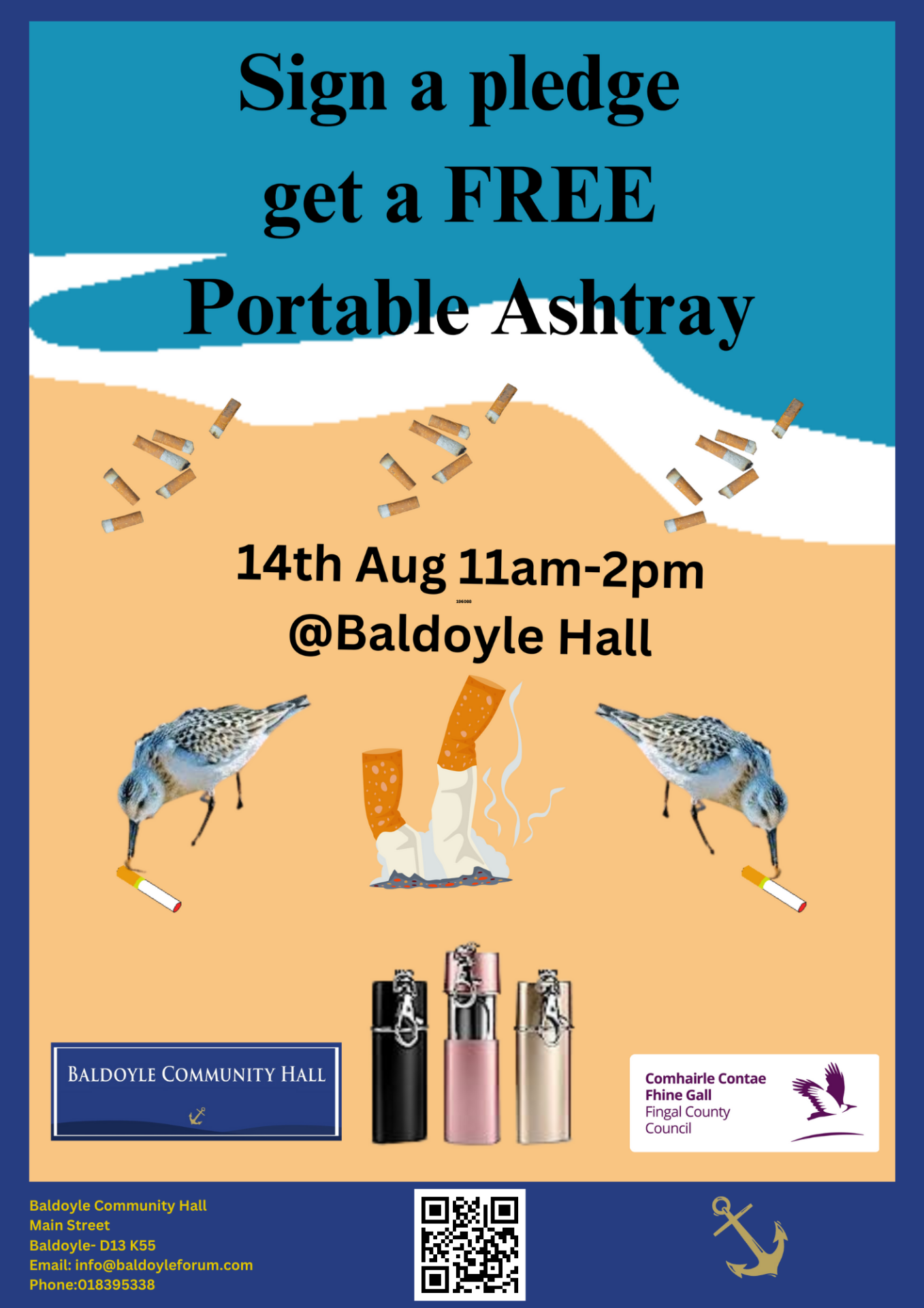 Anti Litter Butt Campaign
We need your help to get cigarette butts off the pavements, parks and beaches.
Free Butt Box when you take a pledge to dispose of your cigarette butt responsibly !
Butt Boxes are still available can call into the reception of Baldoyle Community Hall and get yours.
Elephant in the room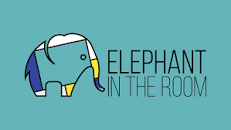 What an inspirational evening with ( Joan and Heidi) at the launch of the Elephant In The Room movement, which is raising awareness on #mentalhealth
Hosted by Founder/Ambassador Brent Pope and Charlie Bird who both spoke so bravely about their own experiences and the need to be kind and understanding.
Also were able to meet their very own local Artist, Karen McSweeney Art who will be painting the elephant.
Baldoyle Community Hall is the 1st in the county to officially adopt one of these baby elephants & the only community centre in the country to have one.
If your company wants to adopt one in support of The Samaritans then get in touch with Elephant In The Room
Huge thanks to Creative Ireland & Fingal Community Development Office for their huge support and funding.
Baldoyle CH will keep you posted with dates on their elephant's arrival..
What this space .#elephantintheroommovement
Boardmatch's Board annual recruiting event
Boardmatch's annual in-person board recruitment event, Charity Trustee Speed-Dating, will take place on Wednesday the 4th October in Dublin city centre.
If any Fingal Community Facilities Network members are looking for new board members this year or next year, this is a great way to meet face-to-face with 100's of prospective board members.
For more information and to register can be found here: https://www.boardmatch-trustee-speed-dating.ie/charities
Boardmatch Ireland
35 Exchequer Street, Dublin 2
m: 01 671 5005 | w: boardmatch.ie
Rivervalley Community Centre's 'Sensory Space' project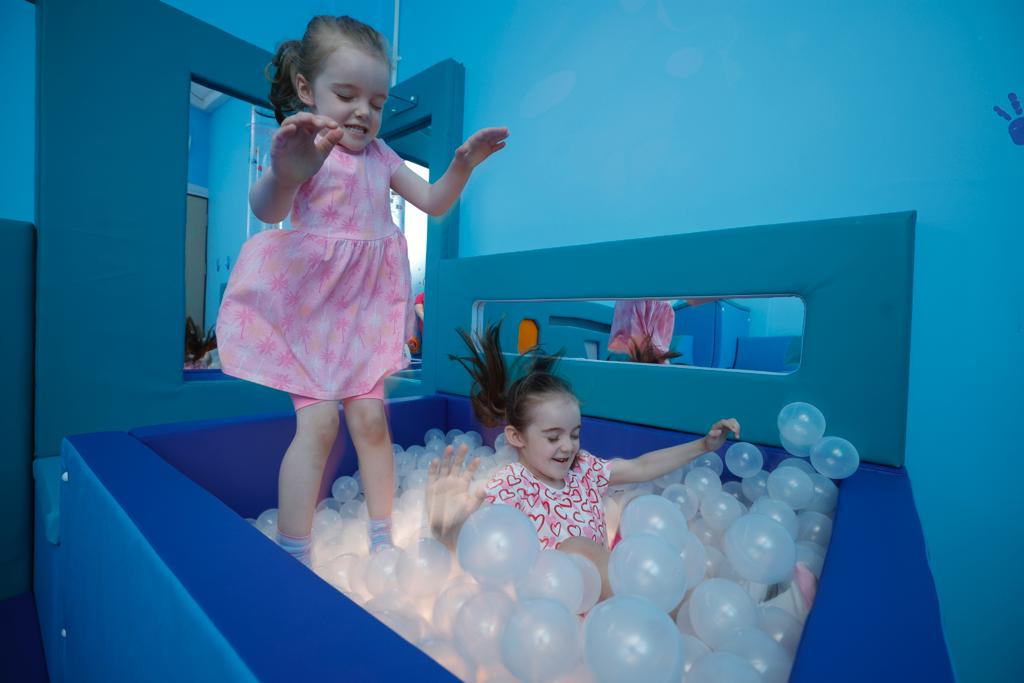 On Wednesday the 23rd of August the team at the Rivervalley Community Centre launched their very first "Sensory Space". Over the past three years their childcare service had identified a higher level of children needing additional resources and this new offering is a space which aims to provide young people with the individualised sensory input they need to help self-regulate, so they can be better prepared for learning and interacting with others.
The team at Rivervalley had been fundraising for 6 months this along with a grant from D.A.A. has seen their vision become a reality. The launch was amazing as unfortunately only four days before the scheduled event the facility was broken into and the room vandalised, the whole team and community came together to repair it even to a higher standard.
Michael and the team would welcome anyone to visit the space and see it in action, contact Michael on or call 087 6710442.
Creative Together Integration Art project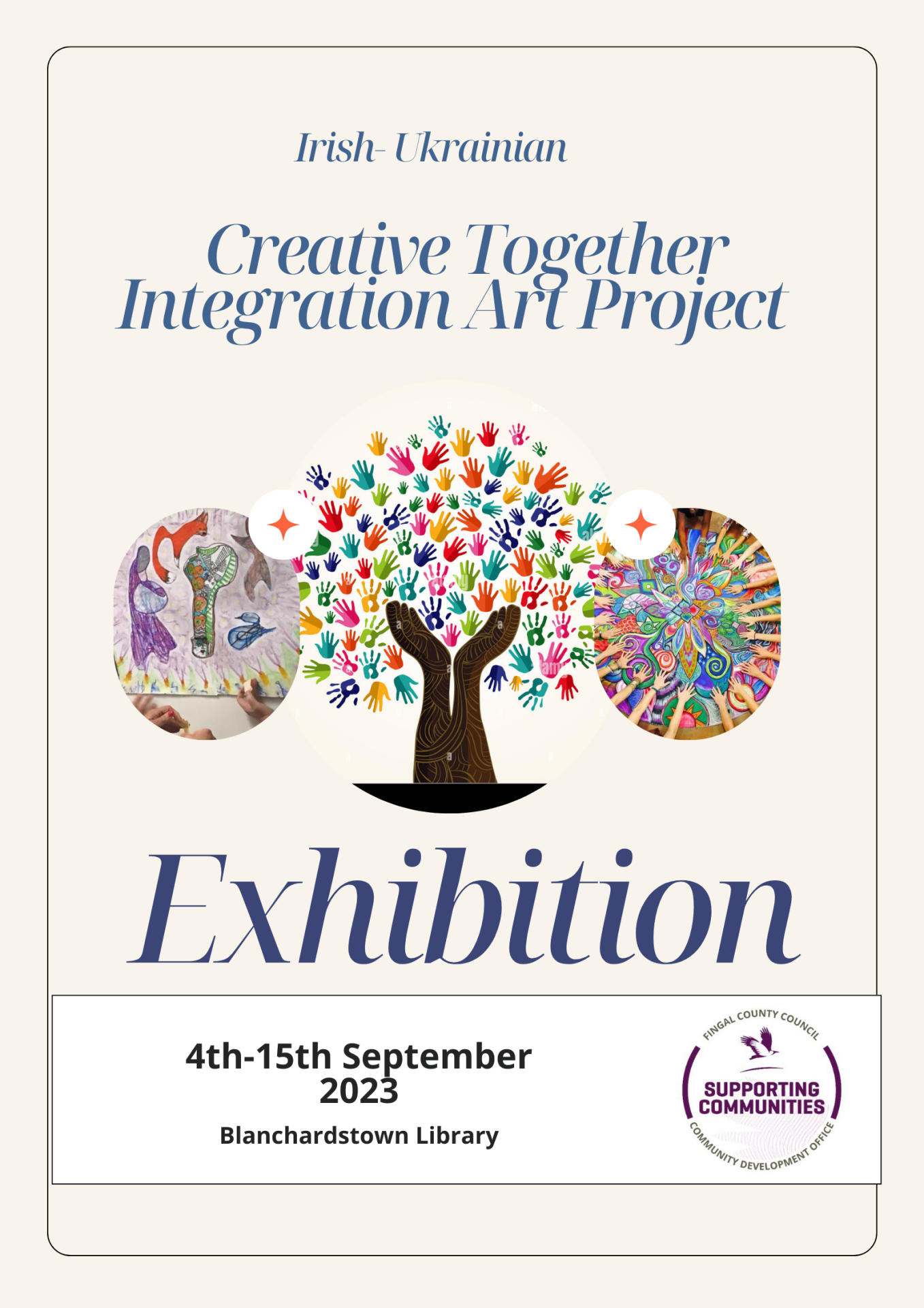 A recent collaborative project between the Dublin 15 Community Development Team and the Ukrainian Support Officer brought two groups together, the Mountview Art Group and the Ukrainian Art Group. This aim of this project encouraged sharing experiences through the medium of art. The exhibition will be launched on Wednesday the 6th September at 6.30pm and will run for one week in Blanchardstown Library. The project will support a further 10 week integration art programme where both groups will meet each week and build on their art skills, shared knowledge and friendship.