A brand new Outdoor Art Exhibition Is currently planned for March 2022 at Huntstown Community Resource Centre
Traditionally the Art Exhibition was an indoor event but with successful outdoor gatherings throughout 2021 the decision has been to take exhibits to the community in the great outdoors in 2022.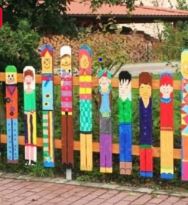 Exhibition Pieces are to be completed on wood which is available from Huntstown Community Centre along with application form now.
Visitors to this Exhibition may come and view from 3rd March where they will be charmed and excited by the variety and vivid colors and quirky twists of the pieces, which will be abandoning the traditionally shaped Art canvasses.
This Exhibition is now open for applications from budding artists of all ages