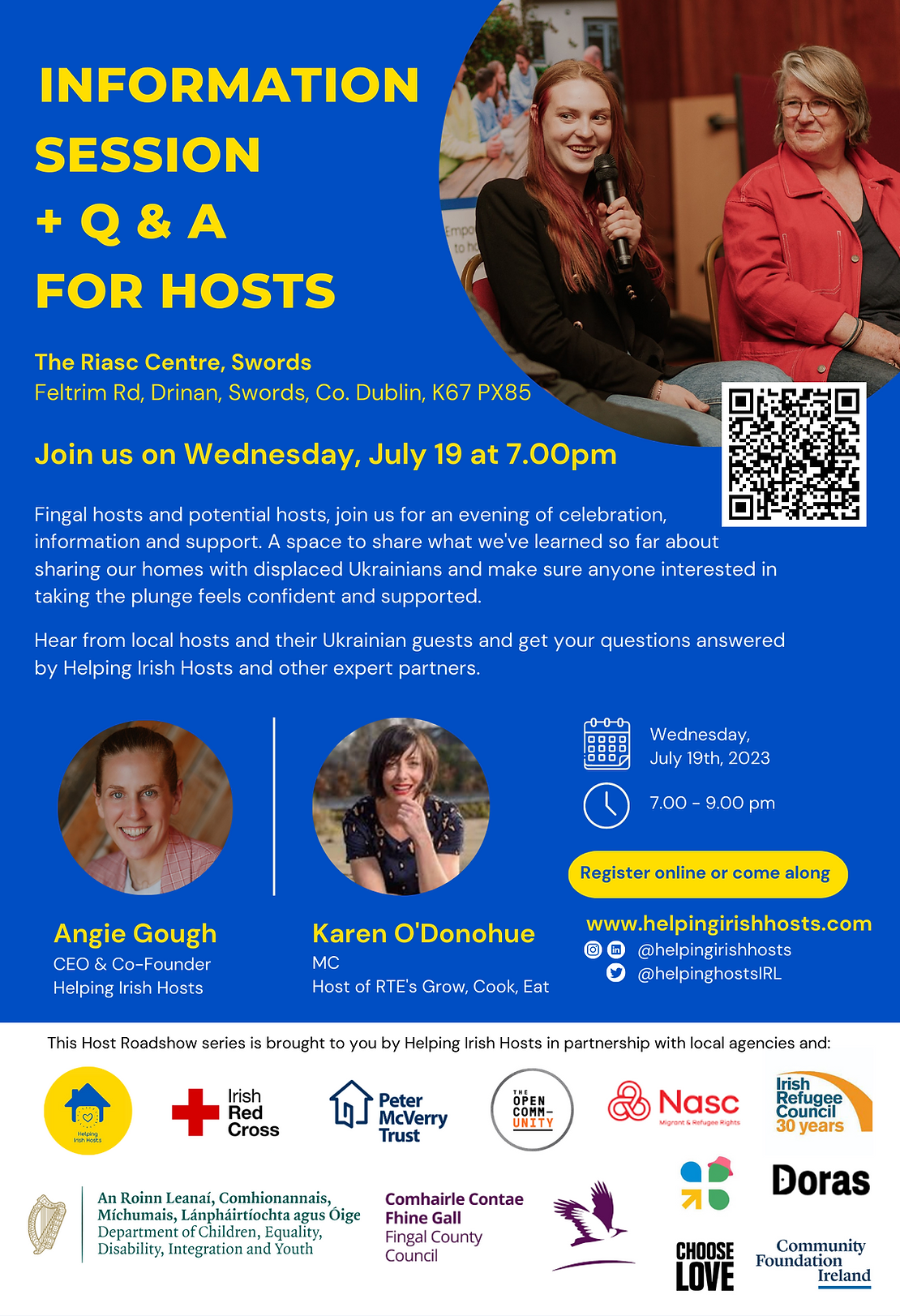 Hi All,
Helping Irish Hosts are holding a roadshow event on Wednesday 19th July 2023 at 7pm in the Riasc Centre,  Kinsealy and would be grateful if you could share with your networks, including Men's & Women's Sheds.
Helping Irish Hosts assist in matching Ukrainians to pledge accommodation, provide assistance and advice to existing hosts who are hosting Ukrainian beneficiaries of temporary protection and also encourage\assist new hosts to become involved in hosting.
Attached is the flyer, and below is a link to Helping Irish Hosts website which sets out further information with respect to the support and services that Helping Irish Hosts provide.
HOME | Helping Irish Hosts | Ireland
Registration for attendance can take place online via
Host Information Roadshow – Fingal Tickets, Wed 19 Jul 2023 at 19:00 | Eventbrite
Persons hosting Ukrainians and the Ukraine guests at host accommodation are welcome to attend as are potential new hosts. You may be aware of constituents that are existing hosts and also constituents that are interested in becoming hosts.
The roadshow in other counties proved to be informative, well- attended events and successful in terms of attracting new hosts, hopefully this one will be just as successful.
You and Me Autism – Baldoyle Family Resource Service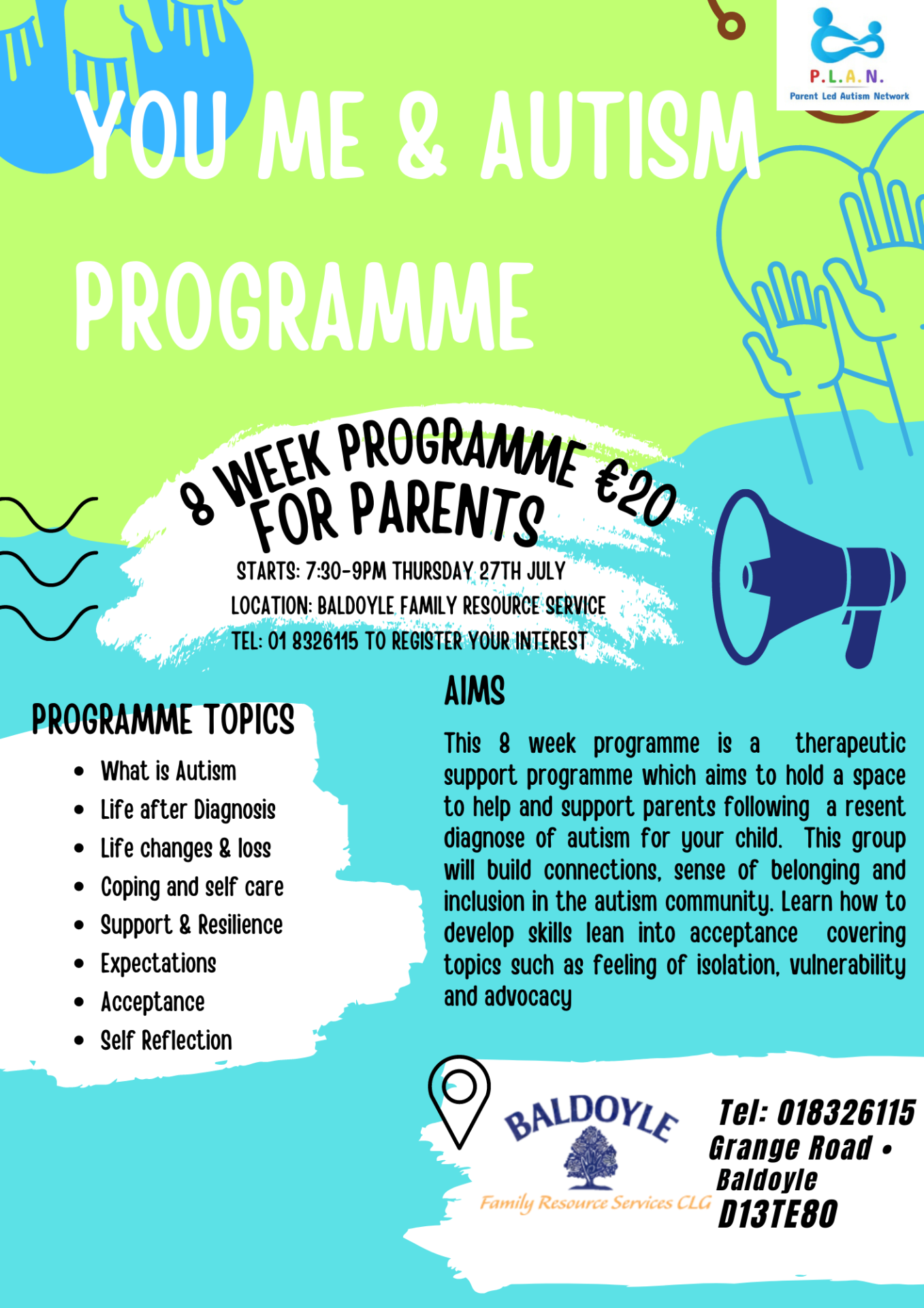 Baldoyle Family Resource Service are running an 8 week therapeutic support programme on Thursday the 27thof July from 7.30pm – 9.30pm which aims to hold a space to help and support parents following a recent diagnosis of your child. This group will build connections and a sense of belonging and inclusion into the autism community. Learn how to develop skills covering topics such as feeling of isolation , vulnerability and advocacy. Further details in poster above. Contact 01 8326115 to register your interest.
Irish sign language class's Hartstown Community Centre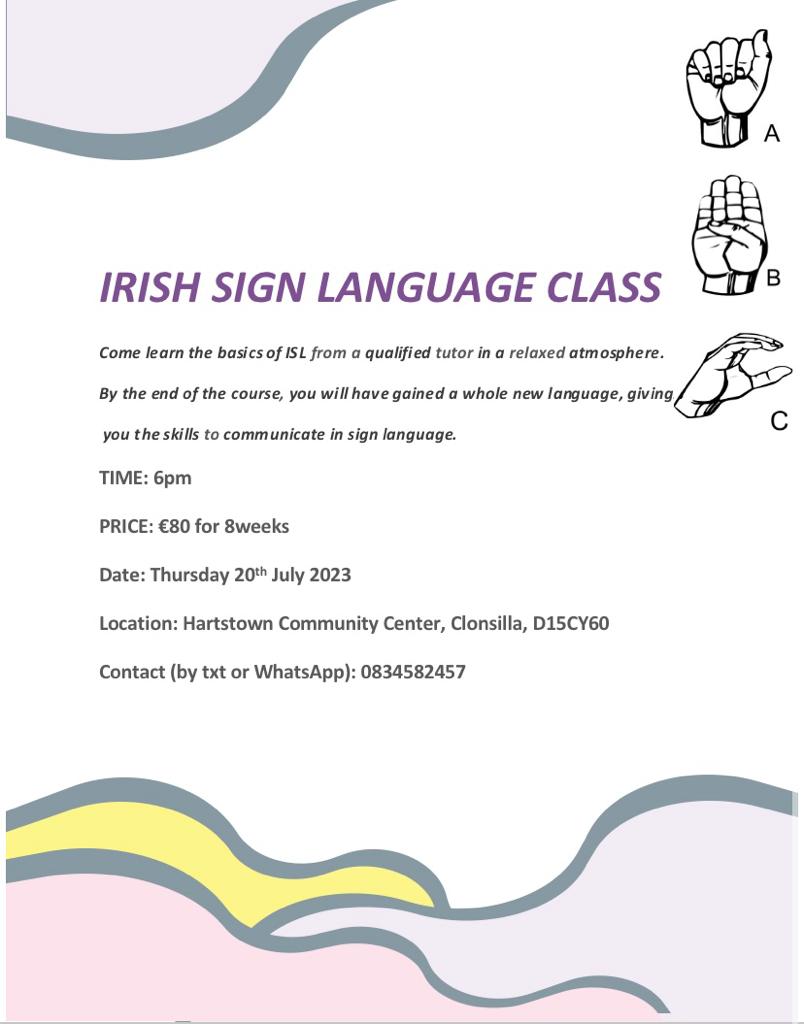 Hartstown Community Centre are running an Irish Sign Language class starting Thursday the 20th of July at 6.00pm with the class running for 8 weeks. Come learn the basics of Irish Sign Language from a qualified tutor in a relaxed atmosphere. By the end of the course you will have gained a whole new language giving you the skills to communicate in sign language. The price for this is €80 for the 8 week sessions. Contact 083 4582457 to find out more/register your interest.
Malahide Family Fun Day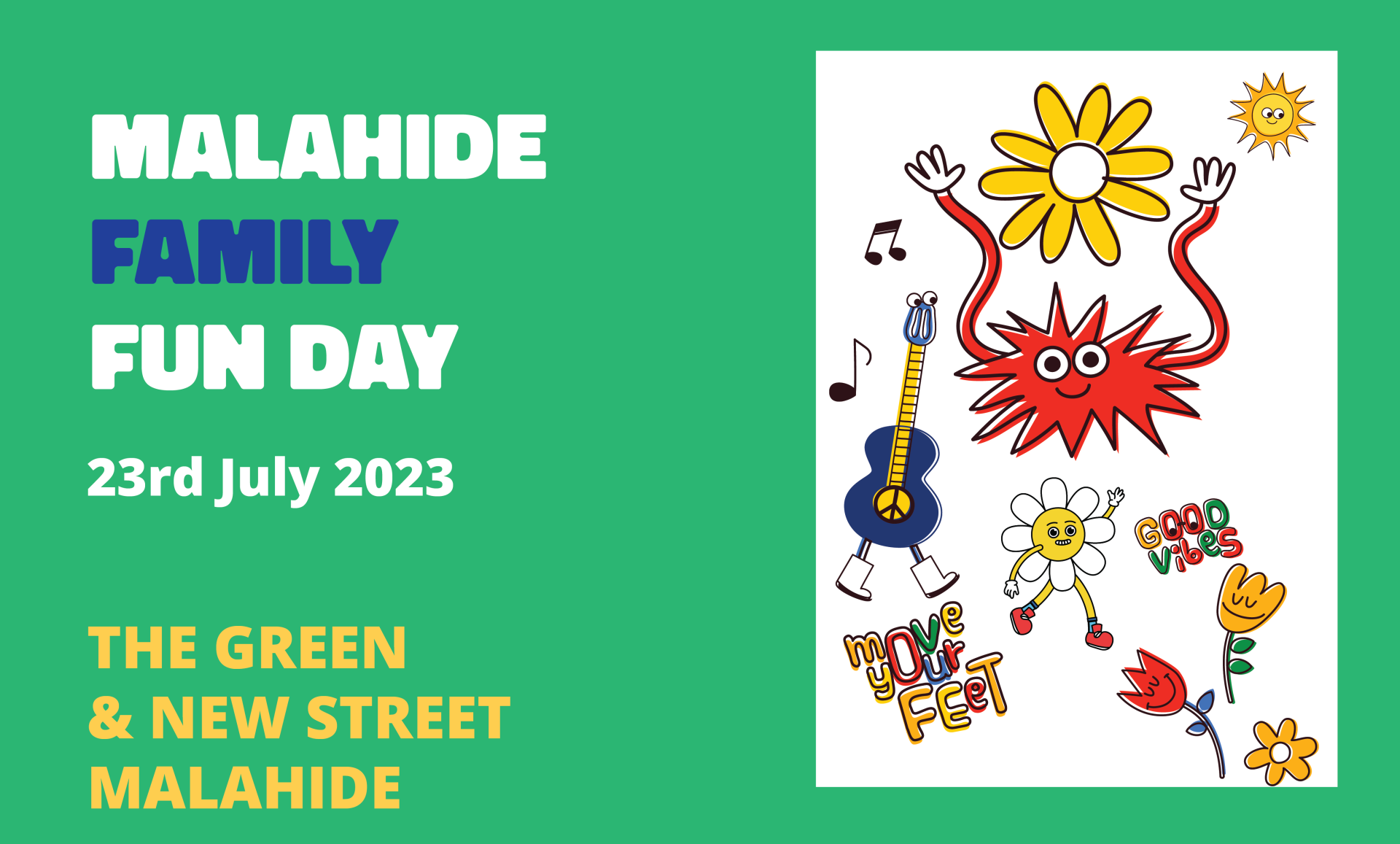 Join us for a summers afternoon of free family fun on The Green and New Street Malahide from 12-5pm on Sunday the 23rd of July . Kids games, puppet shows, circus skills, live music and vintage games. Support your local businesses on the day. Use public transport, walk or cycle if possible. Secure bike parking available.
Baldoyle Forum CLG employment opportunities
Baldoyle Forum is looking for an energetic, enthusiastic person to work as their
Grounds and Building Supervisor. Experience in the building or security trade would be an
advantage. Willingness to work both indoors and outdoors essential.

Baldoyle Forum is committed to supporting flexible working hours. If you would like to discuss
flexible working options, there will be space to do so during the interview process.
Baldoyle Forum are committed to continually improving the diversity of our workforce and therefore encourage applications from people recently immigrated to Ireland, the LGBTQI+ community, the Travelling community and those with a disability.

This is a Community Support Programme (Pobal) funded role and the candidate will need
to be in receipt of welfare to qualify. All contact and role details can be found here