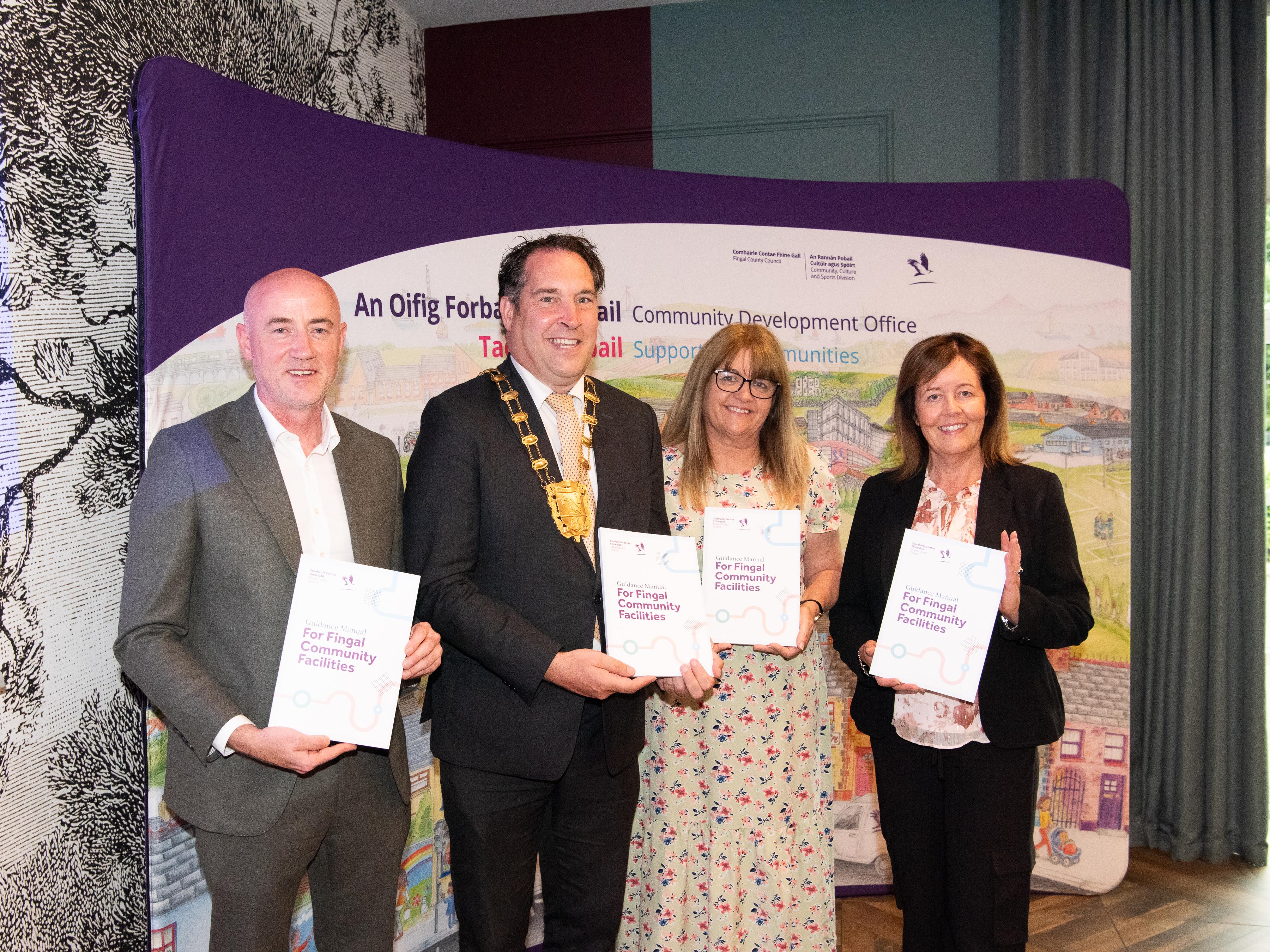 Fingal County Council launched the Guidance Manual on Tuesday the 27th of June for Fingal Community Facilities in Castleknock Hotel, D15.
The Guidance Manual has been formulated over many years to develop guidelines that support the management and operation of community facilities across the County.
The provision of supports like this Guidance Manual are imperative to ensure that local communities continue to manage their centres safely and efficiently and reassure volunteers who give so generously of their time that they are not operating in isolation.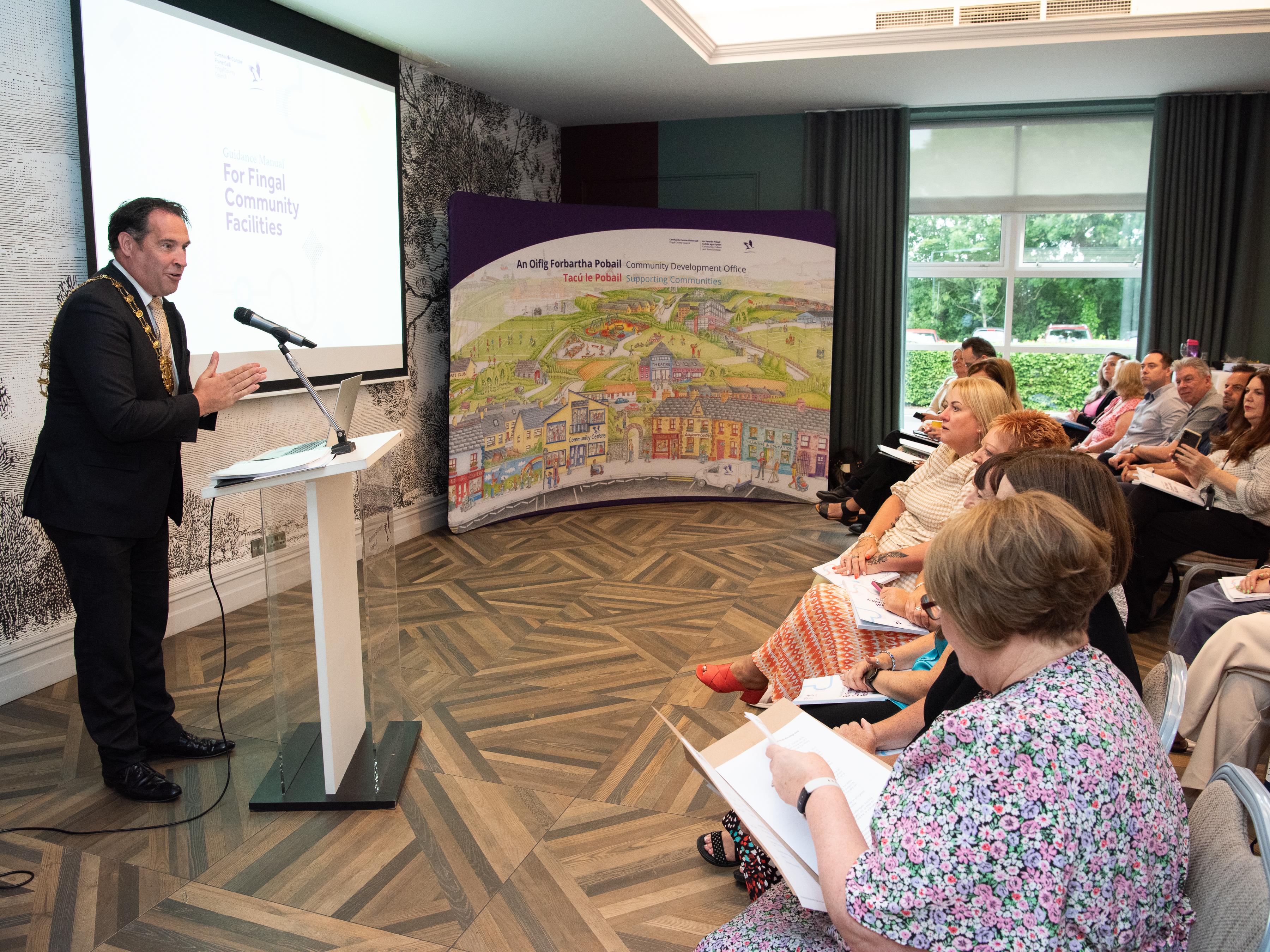 Speaking at the launch, Mayor of Fingal Cllr Adrian Henchy said: "It is no secret that Fingal as a County has experienced enormous change and significant growth over the last twenty years. The population has expanded at an enormous rate as has the demand for community facilities and recreational spaces. As Irelands youngest county Fingal is home to a diverse and multicultural society. Our community facilities play a very important role in enabling us to reach out and develop strong networks across many communities.
Fingal County Council recognises both its responsibility and the importance of building sustainable communities. A key part of this is the provision of community facilities. It is a privilege for me to be part of this process.
As a voluntary board member of a community facility myself, I understand all too well the challenges, pressures and responsibilities placed on local people who give so freely of their time to support their communities. We recognise the importance of providing relevant supports to volunteers who give so generously of their time. This manual will be a key support for these volunteers."
Fingal's Director of Housing and Community Development, Robert Burns said: "The Council will continue to support the work of both council and non-council owned community centres in recognising the important role they play for citizens in the County.
In 2022 over 2.2 million people accessed their local community centre in Fingal. As a local authority we aim to develop and improve the variety of facilities available to the community and ensure they are relevant and meeting the ever-changing needs of the local community.
Our Community Development Office through the community facilities management support unit provides a wide range of technical supports to local boards of management who operate these facilities locally on behalf of the council.
The development of this guidance manual has been a work in progress for many years, I am delighted to see it come to fruition today.
Fingal County Council recognises the enormous challenges facing volunteer boards of management and centre managers on a day-to-day basis. I am confident that this guidance manual will be a valuable resource to community centre boards."
The Guidance Manual is now available as online resource: https://fingalcommunityfacilitiesnetwork.ie/policy-hub/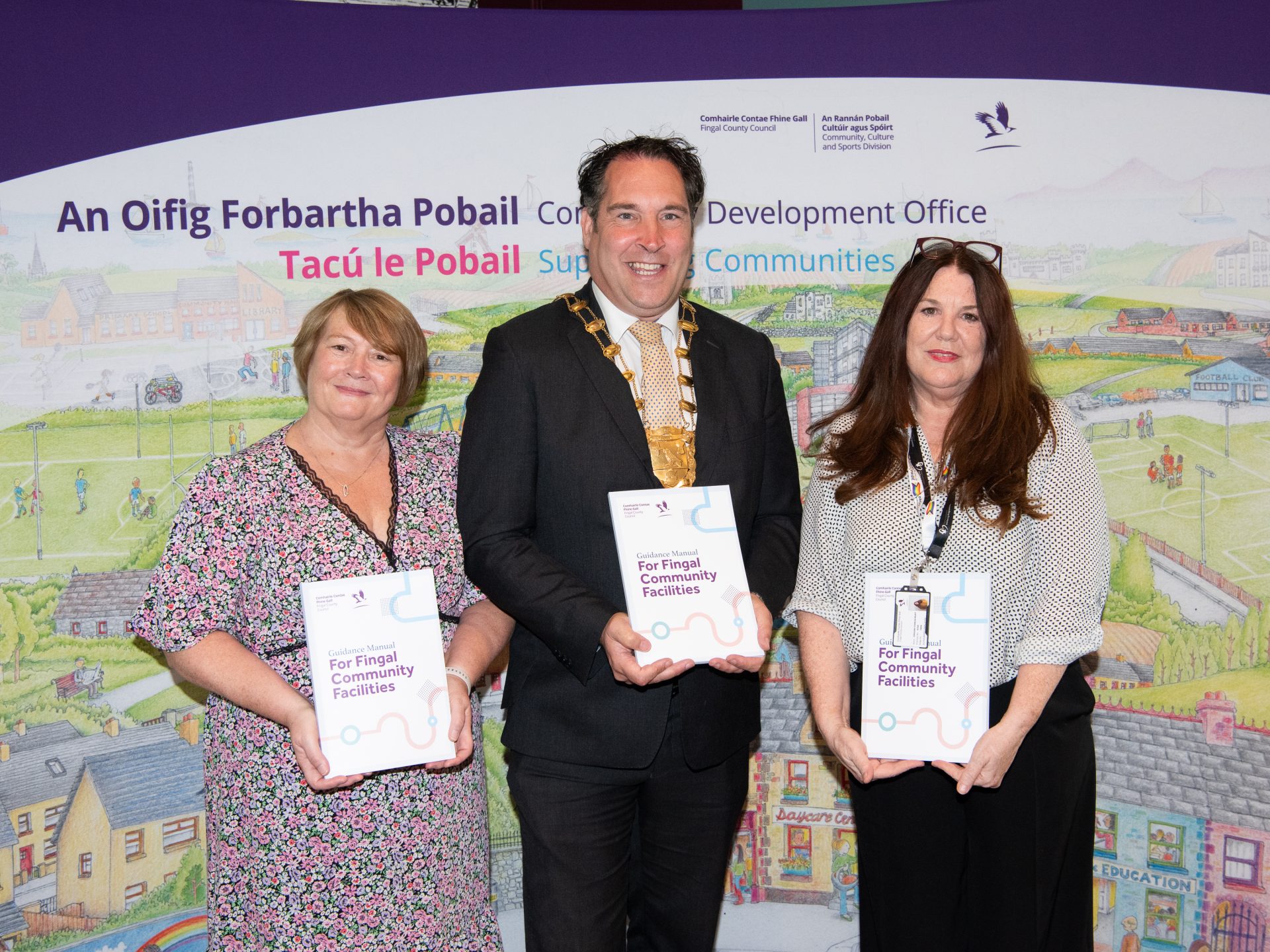 Castleland Community Centre Relaunch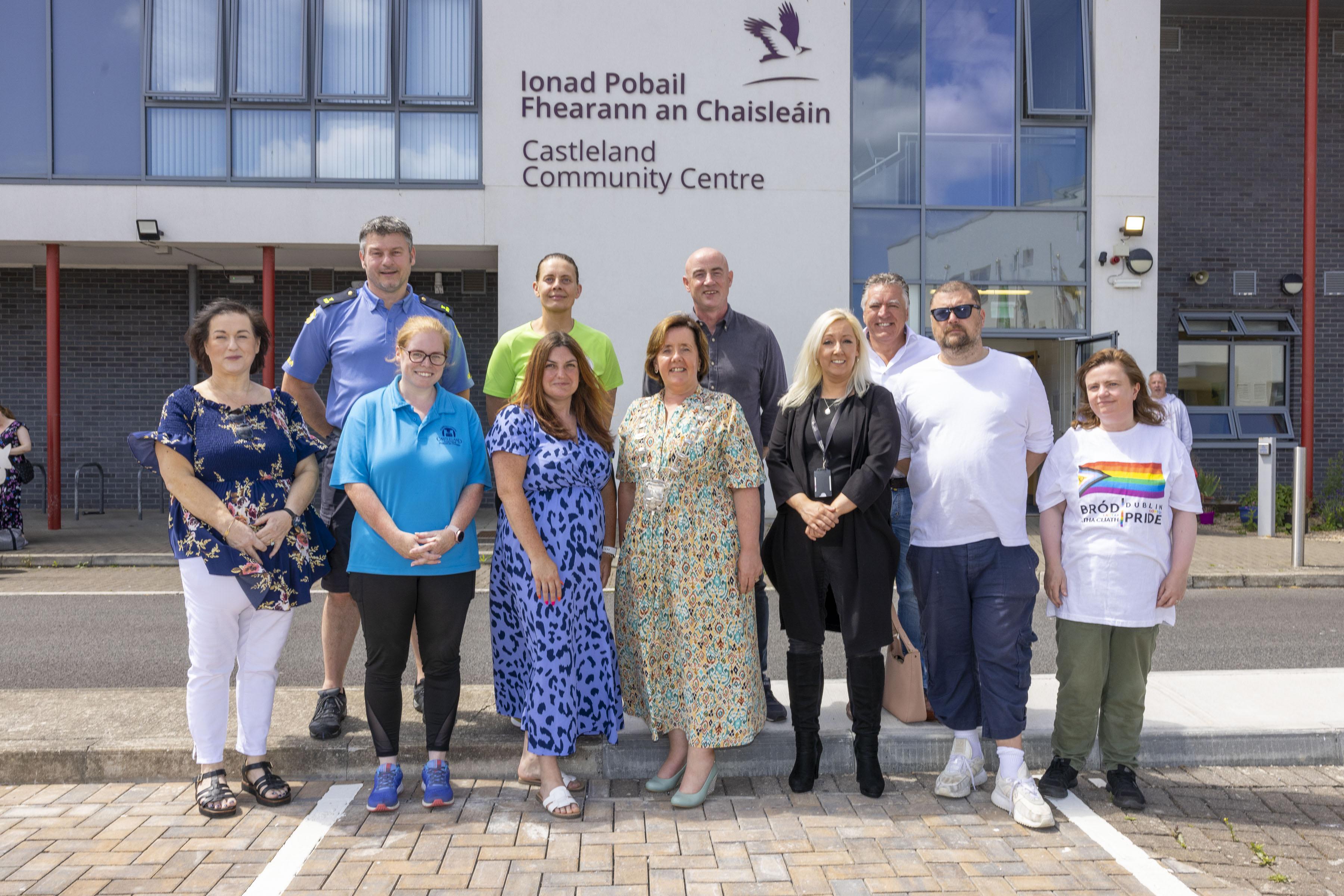 Fingal County Council, in association with Castleland Development Group, welcomed the full reopening of the Castleland Community Centre in Balbriggan, Co. Dublin with a Community Fun Day.
The Community Centre was built in 2017 and for two years up until recently shared it's facilities with Ardgillan Community College to support the educational needs of the young people of Balbriggan. The Centre is now fully available for use by local groups.
The Community Centre provides a vital space for the community to participate in sport and leisure, community development, educational and recreational activities.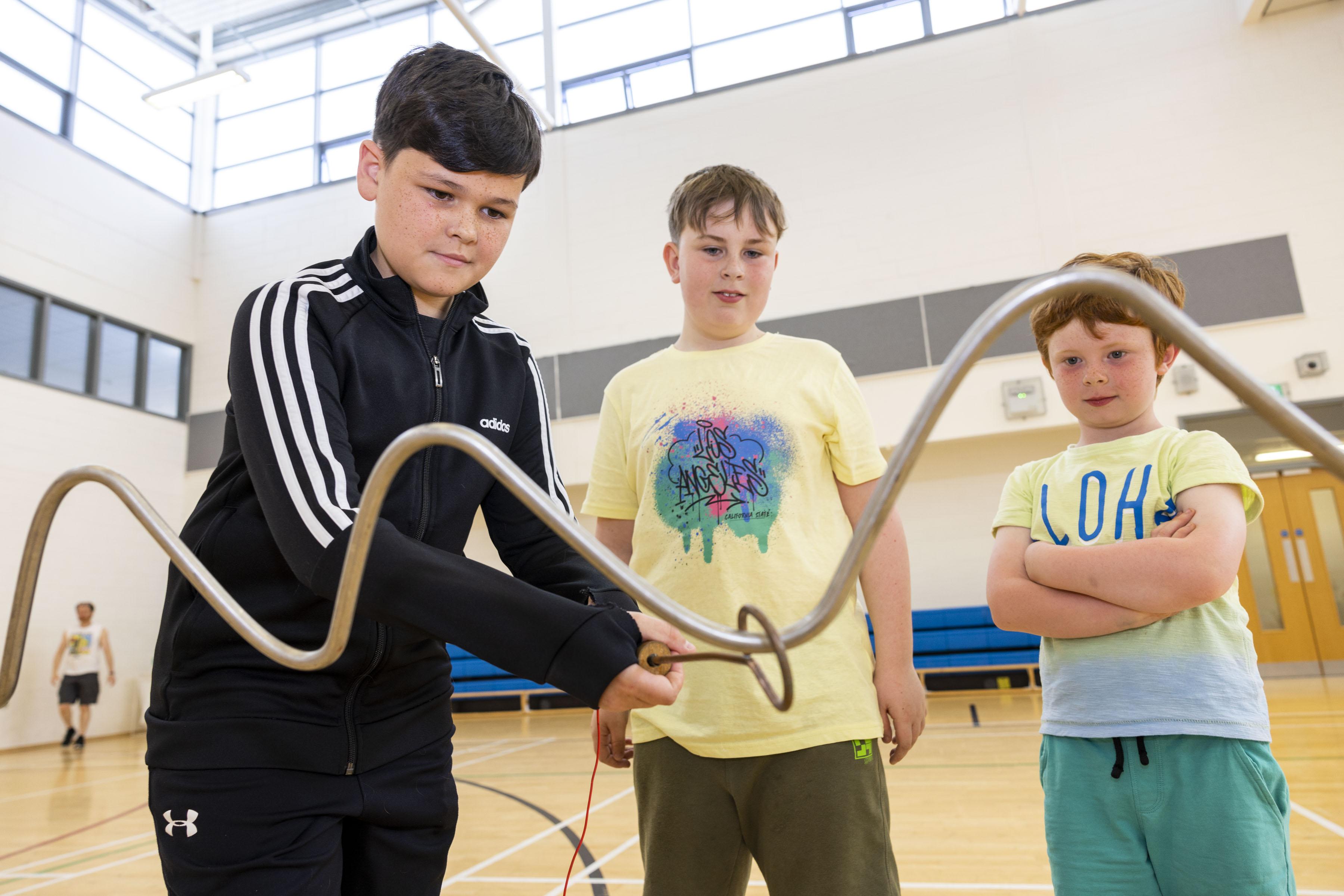 Speaking at the Relaunch, Deputy Mayor of Fingal Cllr Gráinne Maguire said: "Community centres are in the heart of the community and serve the needs of local people. They play a vital role in bringing people together and reducing isolation, as they encourage people to take part in both educational and recreational activities.
The social bonds that people create in community centres give a sense of belonging and helps build inclusive communities. They offer a space to come together and meet, share experiences, take part in hobbies as well building our community from the grassroots up. The power of community centres should not be underestimated. Getting involved in your local community centre can improve your mental, physical and general well-being as well as building a stronger community that responds to challenges as a community."
Fingal's Director of Housing and Community Development, Robert Burns said: " The development of strong, self-reliant and sustainable communities is central to the work of Fingal County Council's Community Development Office. Castleland Community Centre will play a vital role now and into the future for the community in Balbriggan.
The Fingal Community Facilities Network promotes the work of thirty-five Fingal County Council supported community facilities and community centres. Our vision for Fingal is that of inclusive and cohesive communities, where all who live, work and visit are valued, and all residents are enabled to fully participate and contribute to their communities, irrespective of their nationality, ethnicity, religious or cultural background. Fingal County Council as a community leader is committed to building a sense of belonging for everyone who lives, works or visits Fingal.
Over 2.2 million adults and children used our community facilities last year. This number is going to increase as our communities grow, and we welcome the full reopening of Castleland Community Centre for the Community of Balbriggan. Castleland Community Centre will continue to bring people together to shape, change and enhance community life."
Fingal Pride 2023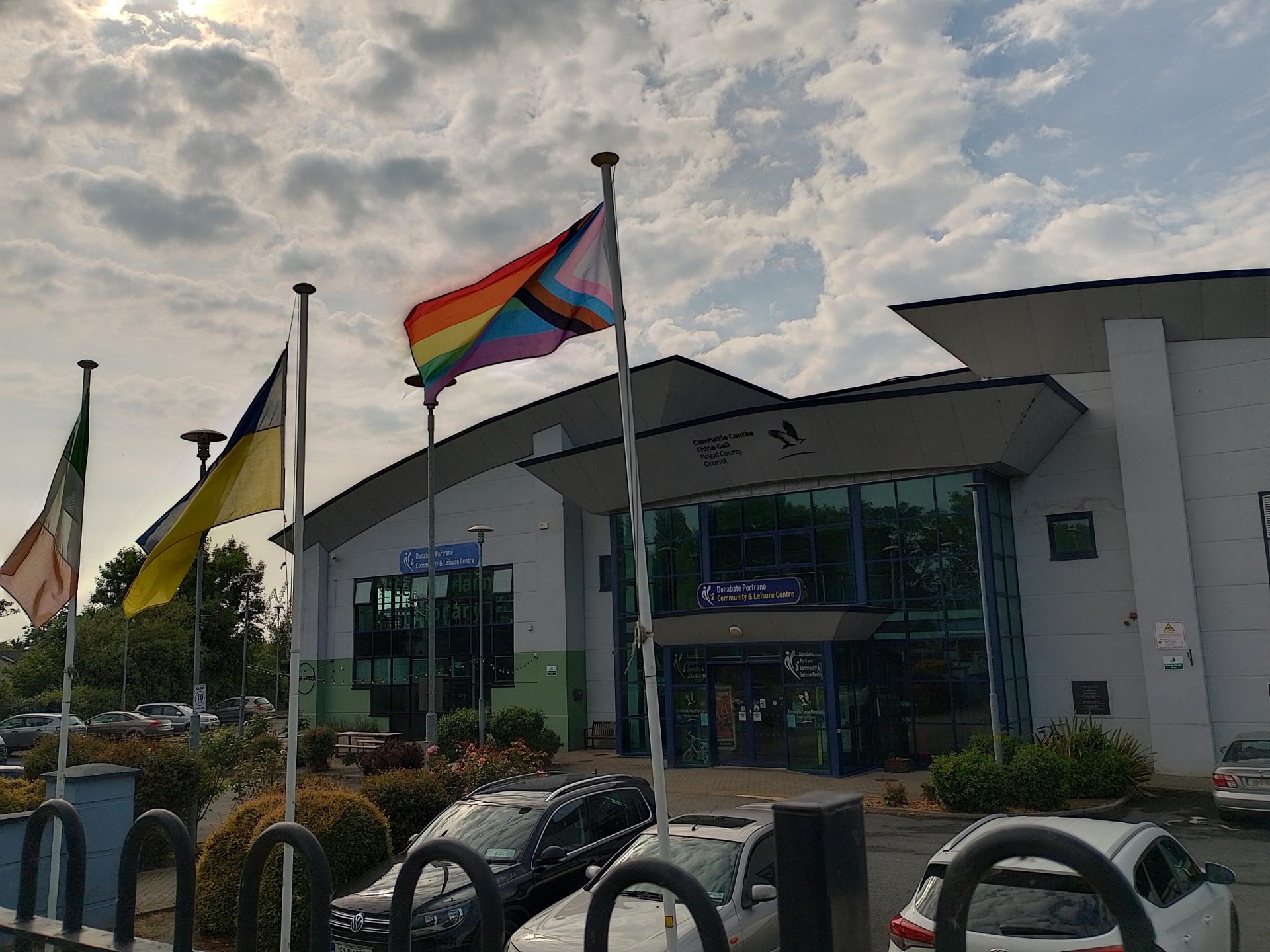 Fingal Pride 2023 celebrates Pride month by showcasing community centre's that have dressed their center's to raise awareness of the LGBTQ+ Communities and their Ally's. Pride packs were supplied to center's to support Pride month from Fingal County Councils Integration office.
Castleknock Community Centre art exhibition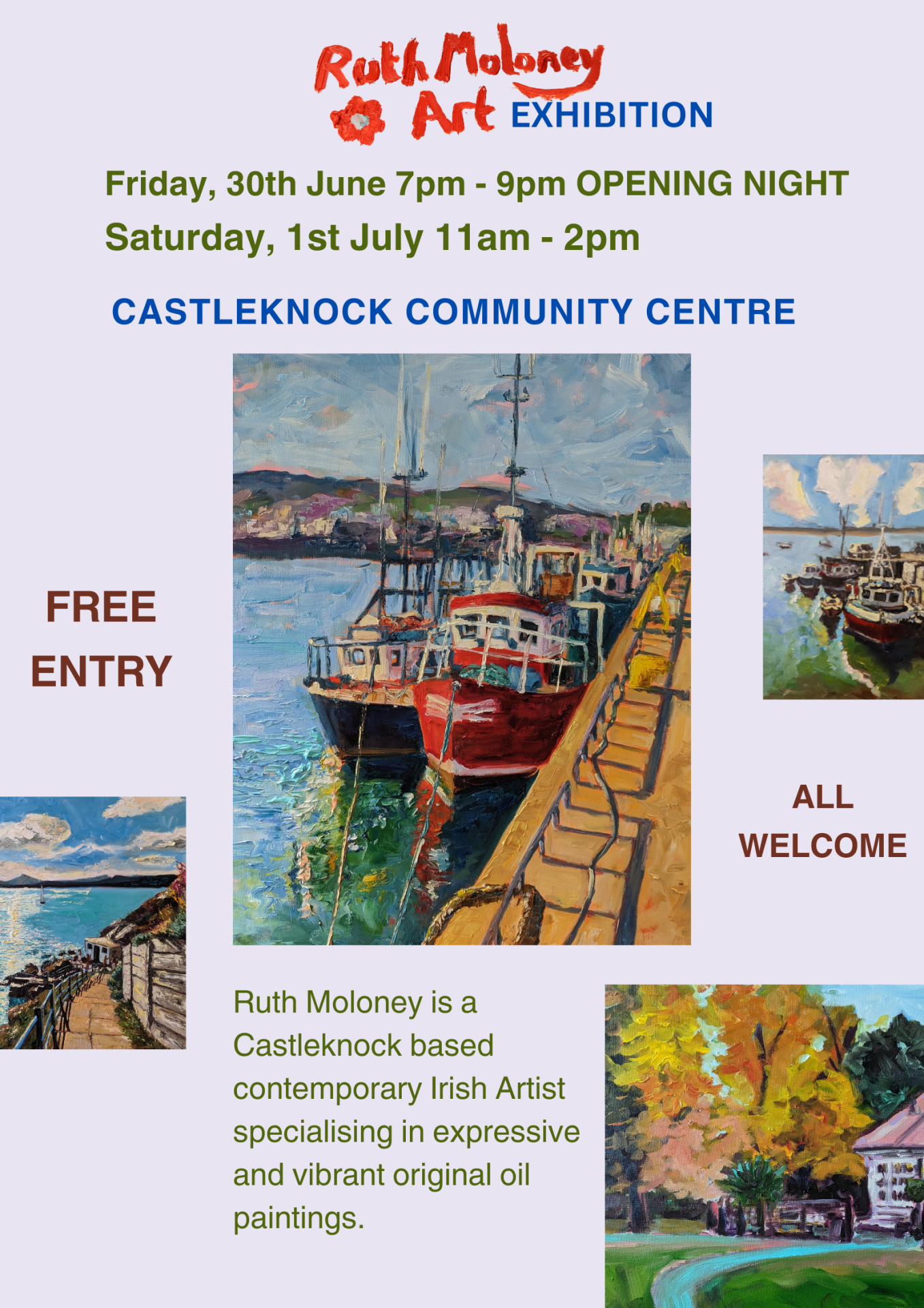 Castleknock Community Centre is delighted to host local artist Ruth Moloney to display her incredible art work on Friday the 30thof June, 7pm-9pm and Saturday the 1st of July, 11am-2pm.
Everyone welcome!

Huntstown Community Centre update
SunSmart Campaign 2023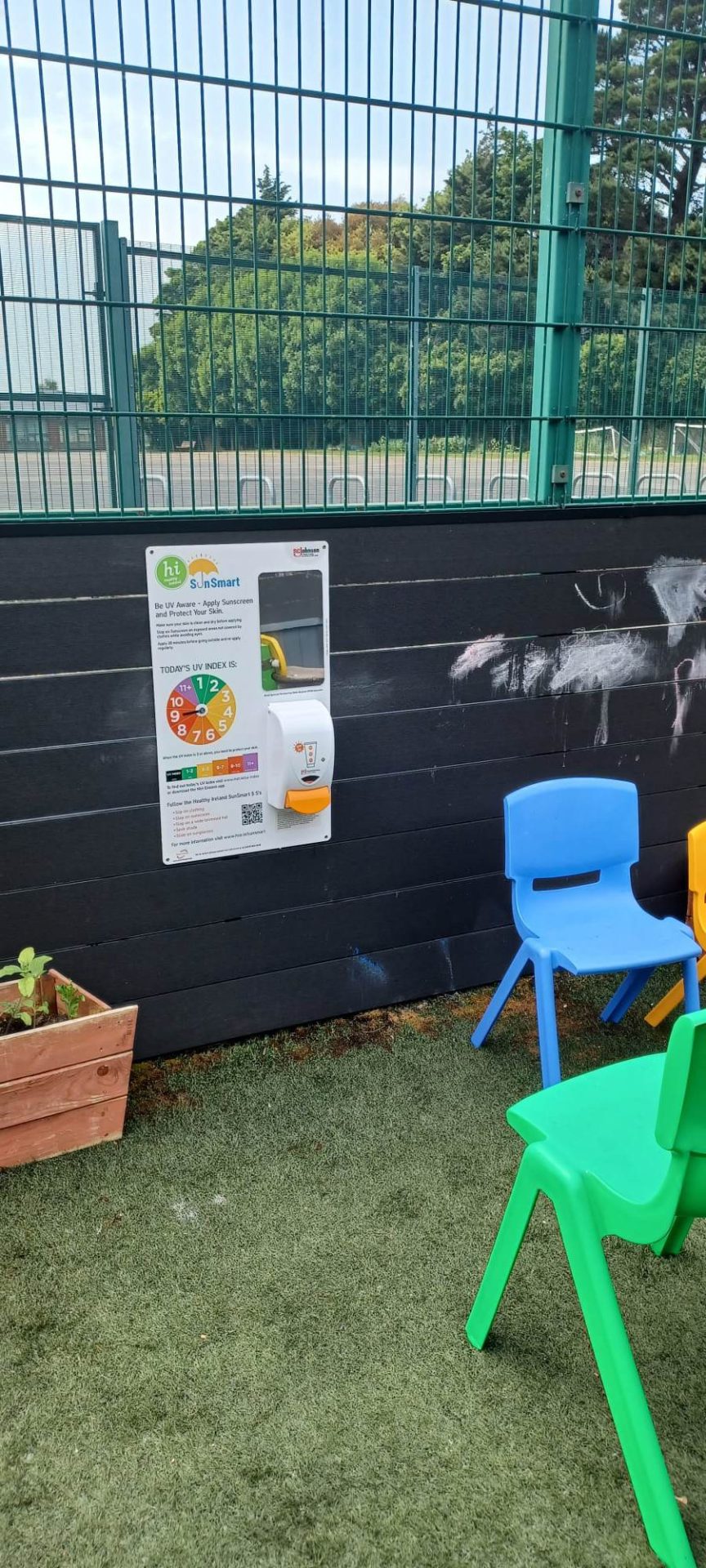 The HSE's National Cancer Control Programme (NCCP) and Healthy Ireland have teamed up with Huntstown Community Centre to support the Healthy Ireland SunSmart campaign. The SunSmart campaign encourages us all to enjoy the sun safely by being SunSmart when outdoors, especially from April to September. As part of this campaign, Huntstown Community Centre has two Sun Screen dispensers available for all to use whilst attending the Centre.
6th Class Graduation Disco
Huntstown Community Centre are organising their annual social event aimed at 6th Class pupils to come together to celebrate their progressing from Primary School into Secondary level. The date is Friday the 30th of June
This event is only for those currently in 6th Class.  The centre see it as an opportunity for these pupils to come together to celebrate  – potentially for the last time as an entire group. This event will be very well supervised with many parents supporting the centre in this. Aimed to be a very positive event for the young people.
Huntstown Community Centre to put on record their gratitude to Fingal County Council Activities Funding to assist the centre with running this event.
Repair Café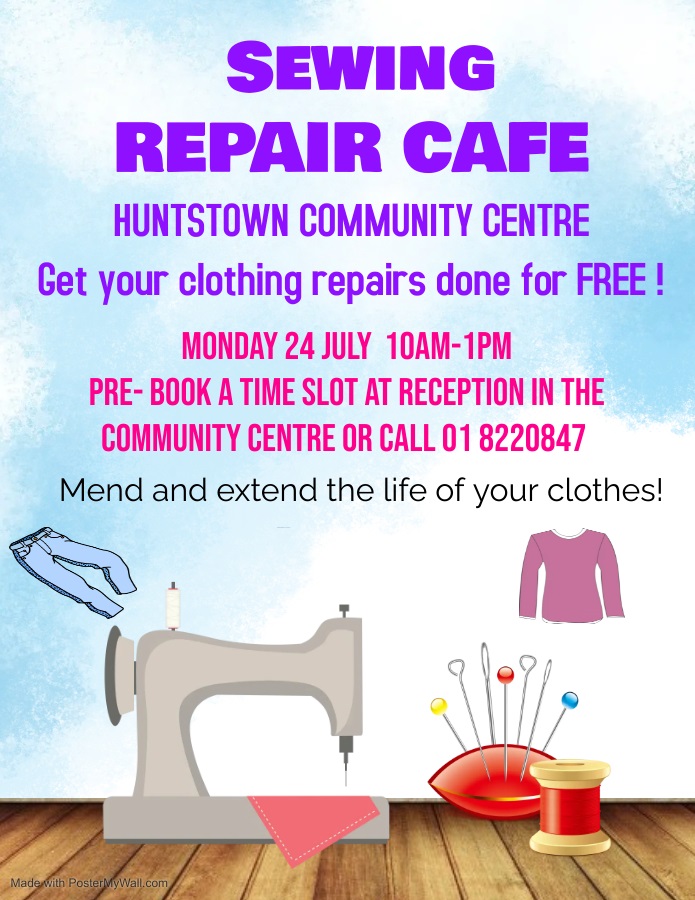 Huntstown Community Centre will be hosting Huntstown Repair Café for sewing repairs …as part of their Environmental Initiatives.
Huntstown Repair Café is a hub for Community engagement, for patching up, mending, Sewing of items such as well-loved teddy bears, jackets, shirts, dresses, tablecloths, recycled buntings, ripped items, buttons.
A lot of our clothing is made of plastics like acrylic and nylon, so making sure that our clothes and textiles are not wasted by ending up in landfill means that we are making the most of the resources we already have in circulation. Add manufacture and transport in and not throwing away and replacing items can have a huge impact. Fast fashion is not only bad for the environment but is also associated with poor working conditions and unreasonable targets that contribute to poverty and poor health.
The centre encourage people not to drop and run, but to stick around, learn some new skills and share a cuppa.
Pre-Registration at Reception – to ensure a time slot.
This event is Volunteer lead
Date:- Monday 24th of July
Time: 10am – 1pm
Contact details in the poster above.
Rivervalley Skills Centre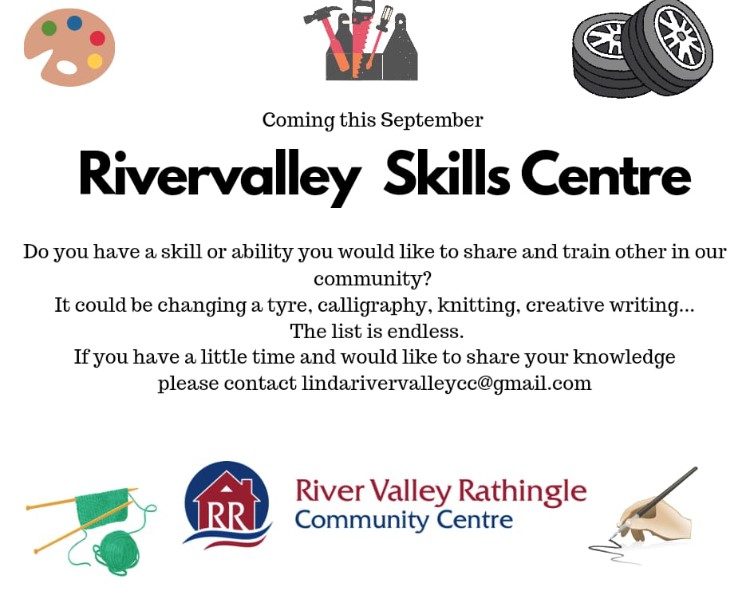 Rivervalley Community Centre are looking for people with various skills for 'Rivervalley Skills Centre', a sharing of skills and training initiative from the centre coming this September. Skills can range from changing a tyre to knitting the list is endless! If you would like to give a little of your time to share this skill and knowledge with your community contact to put yourself forward for this.
Fingal is full of Climate Heroes, and we have the winners to prove it!
National Community Climate Hero Awards were presented on Wednesday 28th of June at an award ceremony in Fingal County Council, County Hall, Swords. Each of the winners were presented with their awards by Mayor of Fingal, Cllr Adrian Henchy and Hans Zomer, CEO with Global Action Plan, the environmental organisation managing the climate competition.
The "Climate Heroes" challenge was a two-week national competition, involving 68 community groups and organisations from all around Ireland. Organised by Global Action Plan and funded by Irish Aid, the national competition was the first of its kind.
Twenty-one Fingal Community Groups competed, logging everyday climate impact activities in a bid to save the greatest amount of greenhouse gas emissions. Fingal came out on top, saving a combined 14,744.12 total kgCO₂e.
Awards were designed by the Rediscovery Centre and presented to the Ukrainian Volunteers of Ireland, Castleknock Tidy Town, Myrtle The Coast Residents Association and the Prosper Group.
Mayor of Fingal, Cllr Adrian Henchy congratulated all the winners and said "I am very proud to be part of the awards ceremony this evening and delighted with the immense contribution made by all of the Fingal groups that participated in the Climate Heroes challenge."
Hans Zomer, CEO of Global Action Plan added: "The Climate Heroes competition illustrates the immediate impact that small lifestyle changes can have. Systems change cannot happen without active and empowered citizens, and the Climate Heroes competition shows that small changes can make a difference, and inspire others."
Robert Burns, Director of Services with responsibility for Housing and Community Development said "On behalf of everyone involved in this unique competition, I want to congratulate all of the teams who participated in the Climate Heroes Challenge 2023 and thank them for serving as a great example to their community."
Sinead Wiley, Senior Community Officer concluded: "Our local teams made a remarkable contribution during the challenge. Their dedication, energy and commitment has helped lower our carbon emissions and create a more sustainable future for all. We hope to see all of you, and many more Fingal community groups, next year for the 2024 Climate Heroes Challenge."