Relevant News
Fingal Children and Young Person's Services Committee survey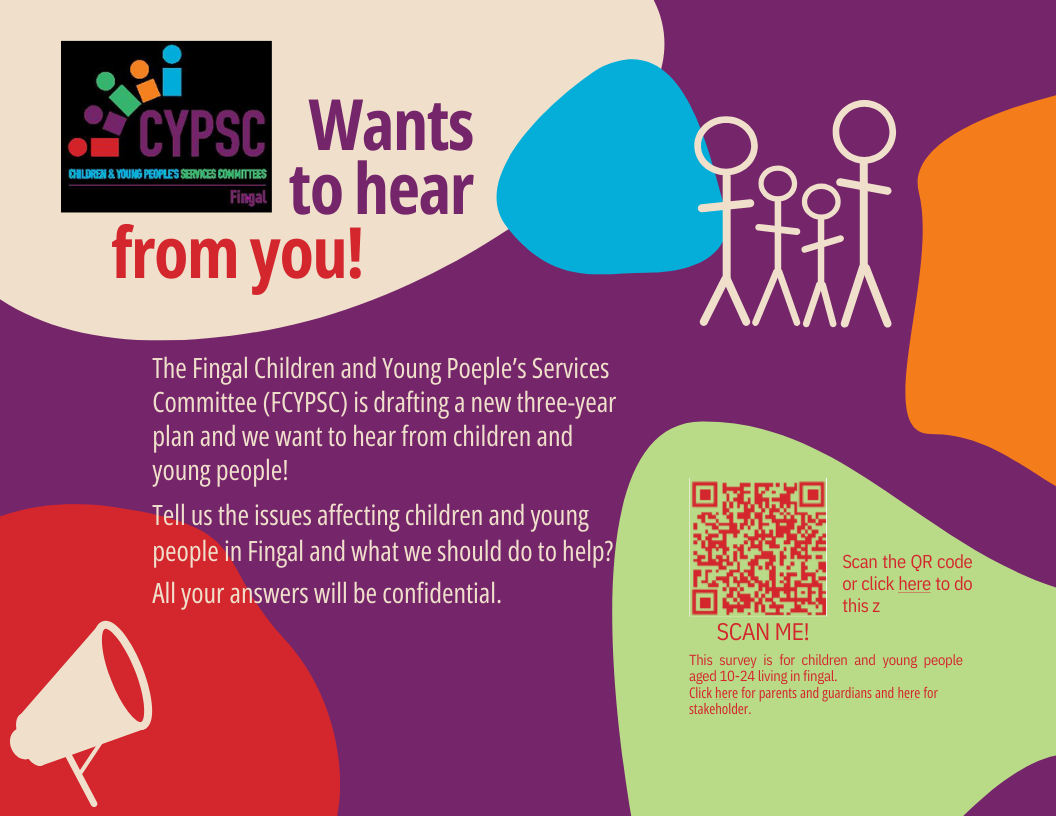 Fingal Children and Young Peoples Services Committee ( FCYPSC) are developing a new three year plan and would really like to hear from children, young people, parents and stakeholders about the issues impacting children and young people.
FCYPSC ask it if you could distribute the attached questionnaires to parents through your network, complete the questionnaire yourself, encourage staff to do the same and distribute to students through school network contacts.
For convenience links have been provided to the survey below-
Children and young people's survey: https://www.surveymonkey.com/r/NVF52V7
Parents survey: https://www.surveymonkey.com/r/YJFNTK9
Stakeholders survey: https://www.surveymonkey.com/r/C9BRNKH
The Last day to complete the surveys is Monday the 9th of October 2023.
A hard copy of the parent's questionnaire, in case parents would prefer to complete the survey this way, has been attached below.
Festival and Events Funding Scheme 2024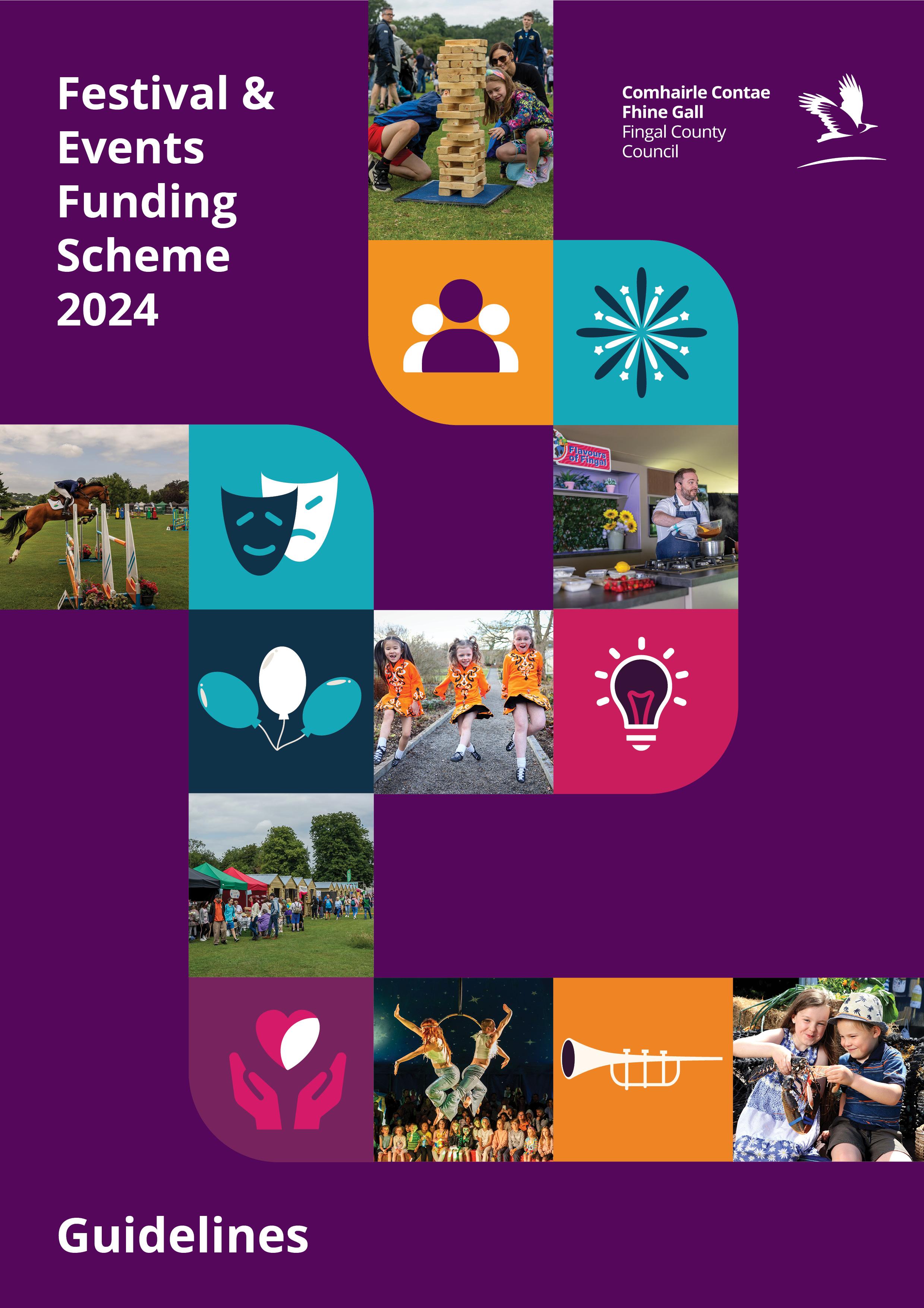 Applications are now open for Festival and Events Funding Scheme 2024 until January 31st, 2024
Fingal County Council's Events Unit was established in 2010 to organise and support events happening within the County. Since its establishment, applications for events have increased substantially. The support programme is a combination of Fingal County Council's own events, events in partnership with other bodies that have similar objectives, and events organised by external organisations who receive funding directly from Fingal County Council through a financial assistance programme.
Festivals and Events are a celebration of creativity and diversity and have an immensely positive impact on the cultural wealth of Fingal. Every year, over 100 events occur across the county, from major music and theatre festivals to seafood festivals, local summer festivals, community run events and parades. They provide a platform for the arts, sports, food, history and entertainment and celebrate a wealth of lifestyle and passions. They offer a host of economic, social, and cultural benefits to communities. Economically, events stimulate the growth of the local economy and socially, embrace community pride, provide education and strengthen community relationships.
The scheme offers an opportunity for funding under three Strands for Festival & Events taking place in 2024.
The three strands of Events and Festivals funding are:
S1: Delivery and Programming of Small Scale & New Festivals & Events
S2: Delivery and Programming of Medium and Large-Scale Festivals and Events
S3: Festival and Events Economic Development and Sustainability
Applications are to be submitted online at: https://submit.link/22Q
If you are successful in securing funding for an event, which is intended to be held on (or part of) Fingal land, you must apply for an Event Permit to your Operational Area. More details can be found here   27 SEP 2023  PDF  9.06MB
Fingal County Council's Integration Team in association with SHE (SEE Her Elected) Introduction to Local Politics free workshop and Understanding Local Government free online course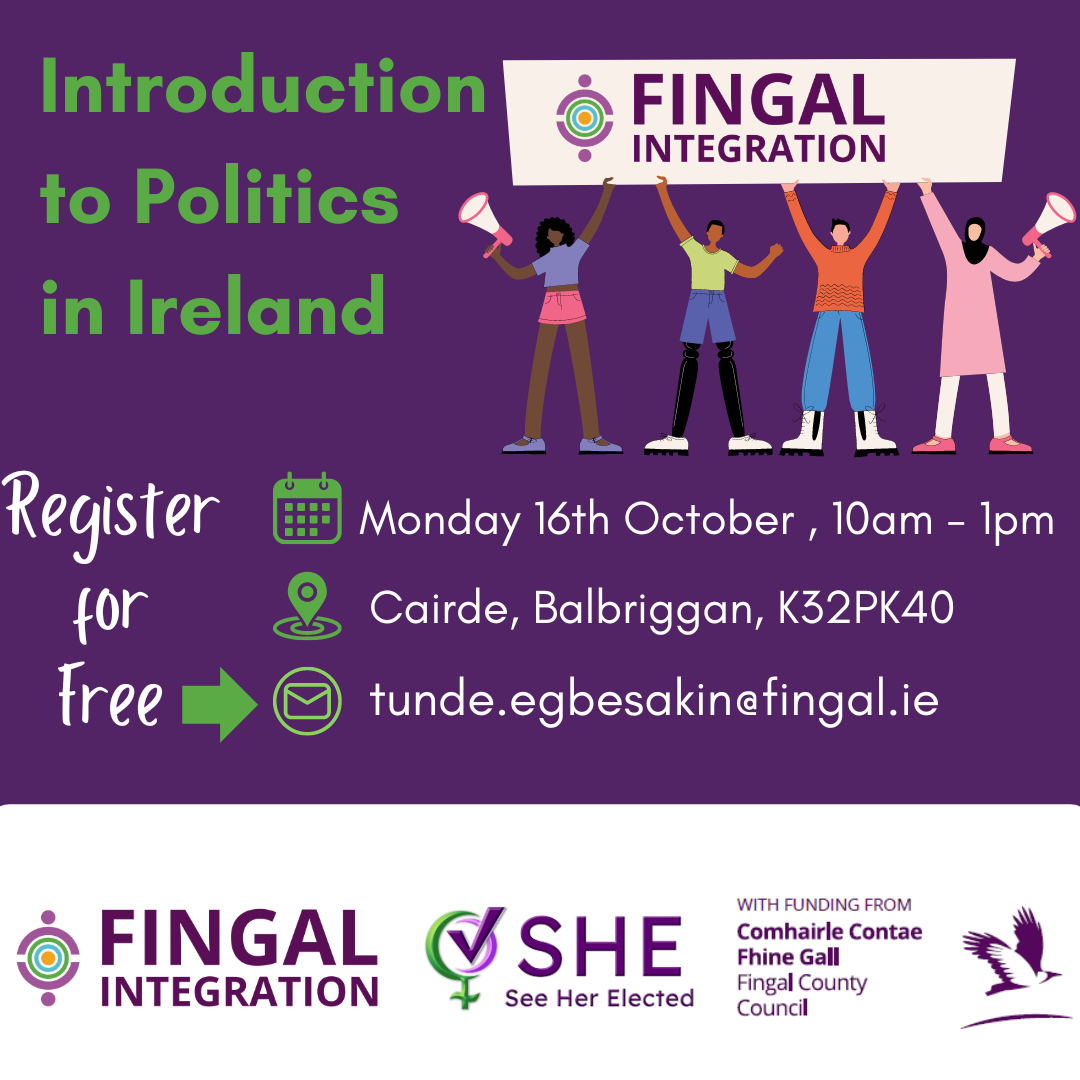 Fingal Integration team in collaboration with SHE (See Her Elected) is hosting a free workshop on Introduction to Politics in Ireland on Monday, 16th October in Cairde, Balbriggan from 10.00am -1.00pm.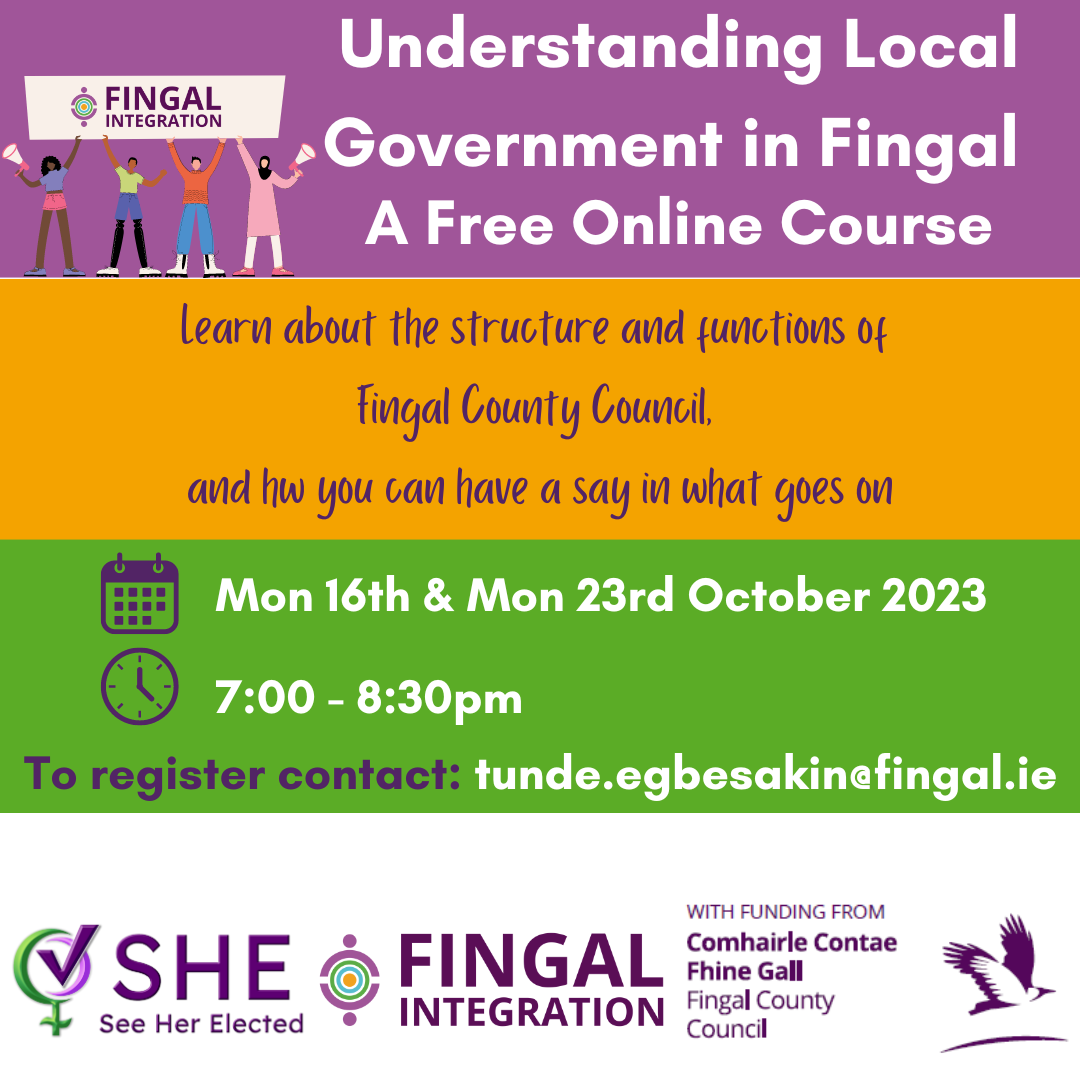 Fingal Integration team in collaboration with SHE (See Her Elected) is hosting a free online course on Understanding Local Government in Fingal on Monday, 16th & 23rd October, 7.00-8.30 pm via Zoom.
Free reconditioned paint for Local Community spaces.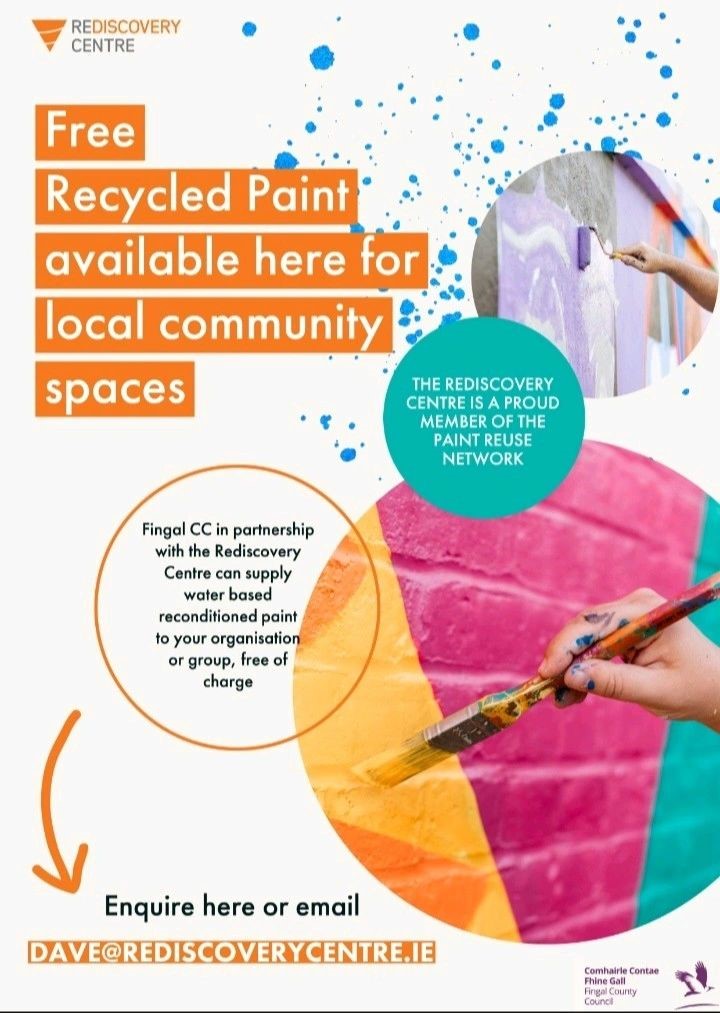 Fingal County Council in partnership with the Rediscovery Centre will provide recycled outdoor paint to local community groups for free.
Groups can order and collect directly from the Rediscovery Centre details given above.
Events
Ongar CC D15 Community Choir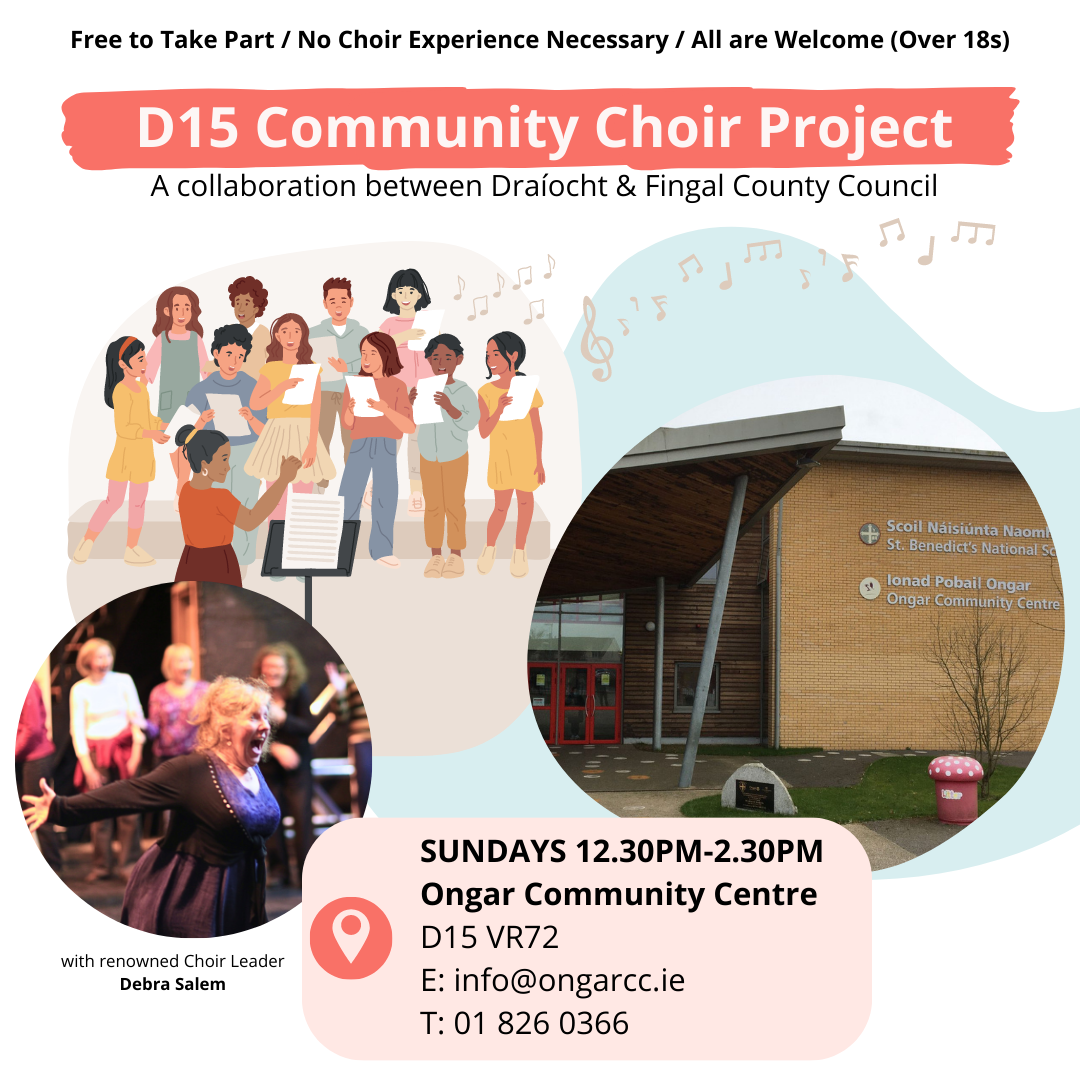 Fingal County Council and the Draiocht have collaborated together to bring the D15 Community Choir Project to Ongar Community Centre. The choir is free to take part with no singing experience necessary, with all welcome (over 18's). The first practice session will take place on Sunday the 15th of October from 12.30 – 2.30pm, for more details contact Ongar CC on 01 826 0366 or email .
Pickleball Luttrellstown Community Centre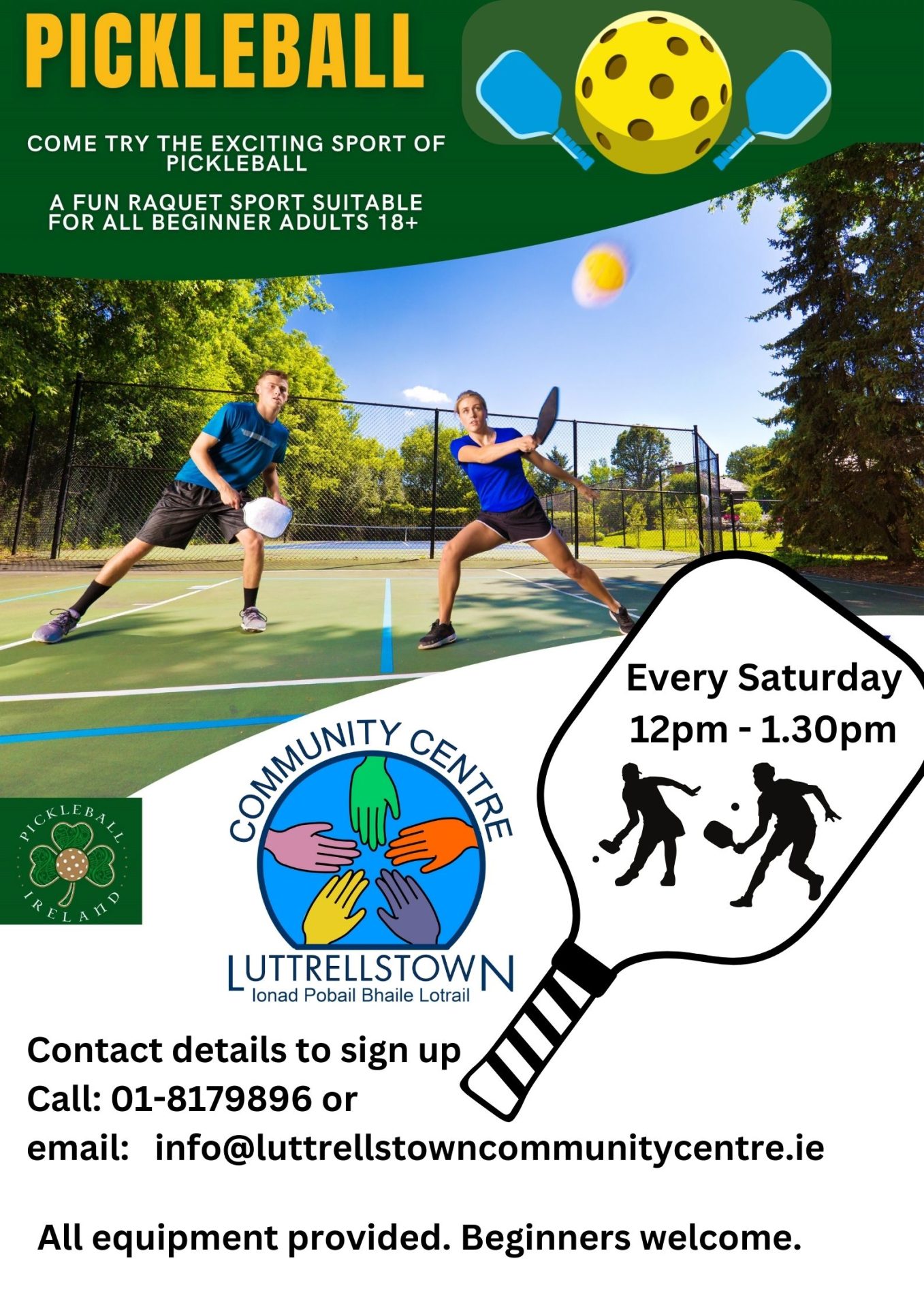 Luttrellstown Community Centre are running free Pickleball classes starting this Saturday from 12.00 midday until 1.30pm.
Pickleball is enjoyable sport thanks to its ease of play and straightforward rules. In some ways it's a combination of tennis and badminton, and is a sport which is inexpensive, social and healthy for the whole community.
To sign up to try this new exciting sport call the centre on 01 817 9896 or email
Parslickstown House Positive Ageing Week 2023 event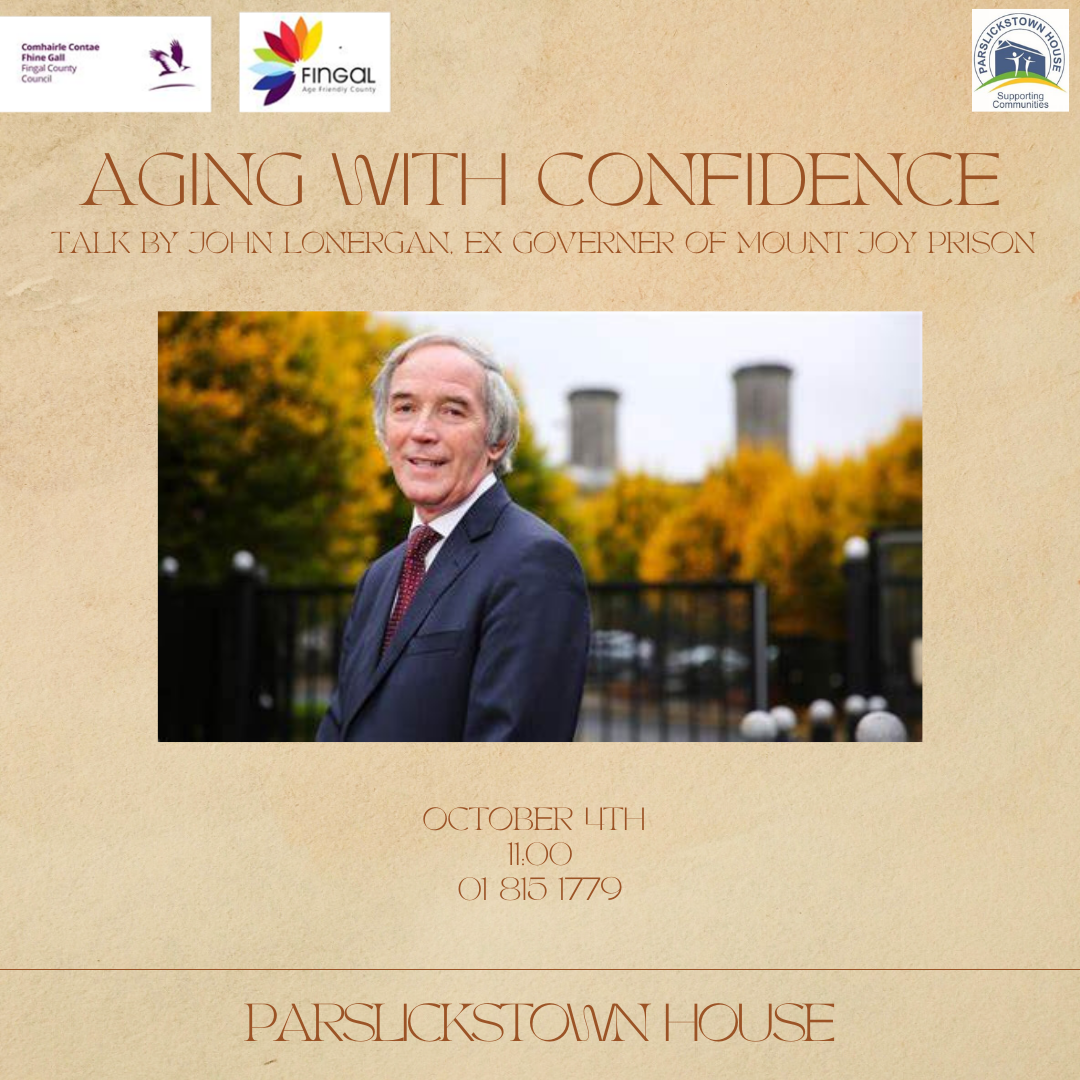 Parslickstown House are hosting an event 'Ageing with Confidence' to take place on the 4th of October from 11.00am, to coincide with Positive Ageing Week 2023 – 1st to the 7th of October. 'Ageing with Confidence' will feature a talk from John Lonergan, previously the Governor of Mount Joy prison, who will bring his own experience's to the session.
For more details or to register your interest contact Parlsickstown House on 01 815 1779.
Rivervalley Community Centre new flag poles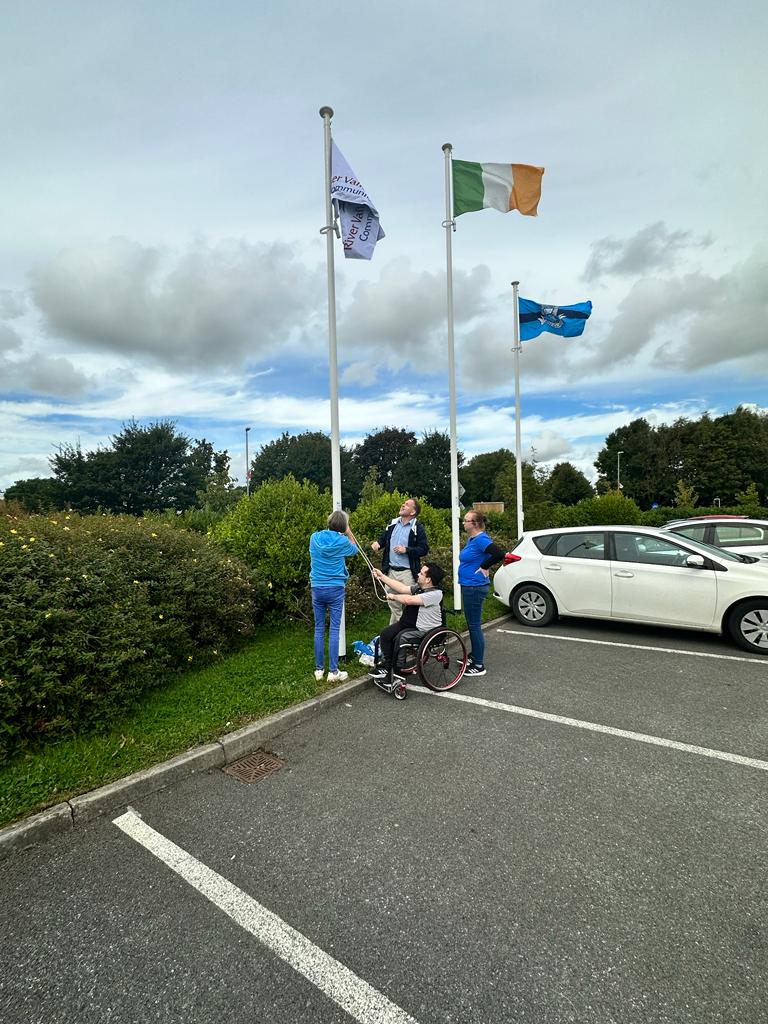 The team at Rivervalley erected Flag Poles at the centre to promote the space within the local community as seen in the pictures above.
The poles were funded by the DAA's Community Fund and will be used to promote various activities and celebrations throughout the year. They also had a new flag designed for the centre by the staff and C.E. participants. The Flag Poles are a welcome addition to the centre and well done to all involved.
The Bold Woman Presents – Dance Classes Holywell Community Centre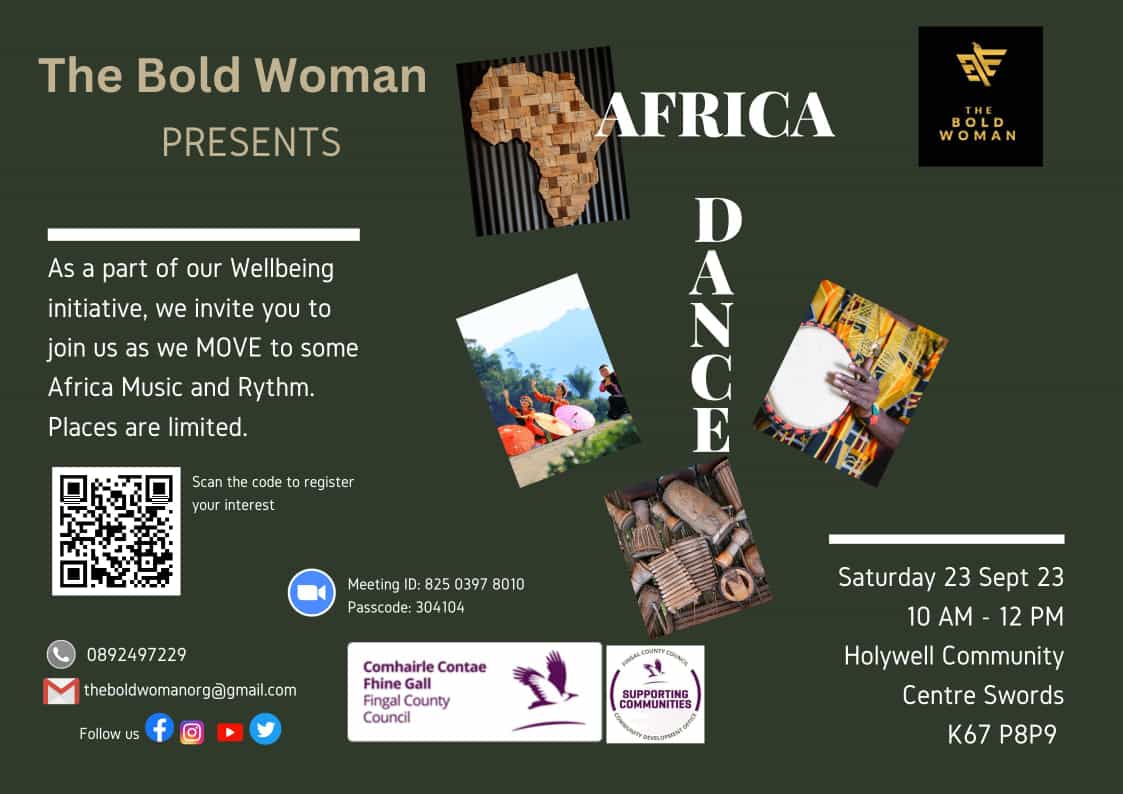 As part of their Wellbeing initiative, The Bold Woman presents new dance classes are starting on Saturday morning (23rd of September) in Holywell Community Centre from 10.00am to 12 midday– a great way to keep fit, have a laugh and learn some new moves.
To register your interest or for more information scan the code in the poster above or call 089 249 7229 or email .
Age Actions Volunteers required – Mountview Community Centre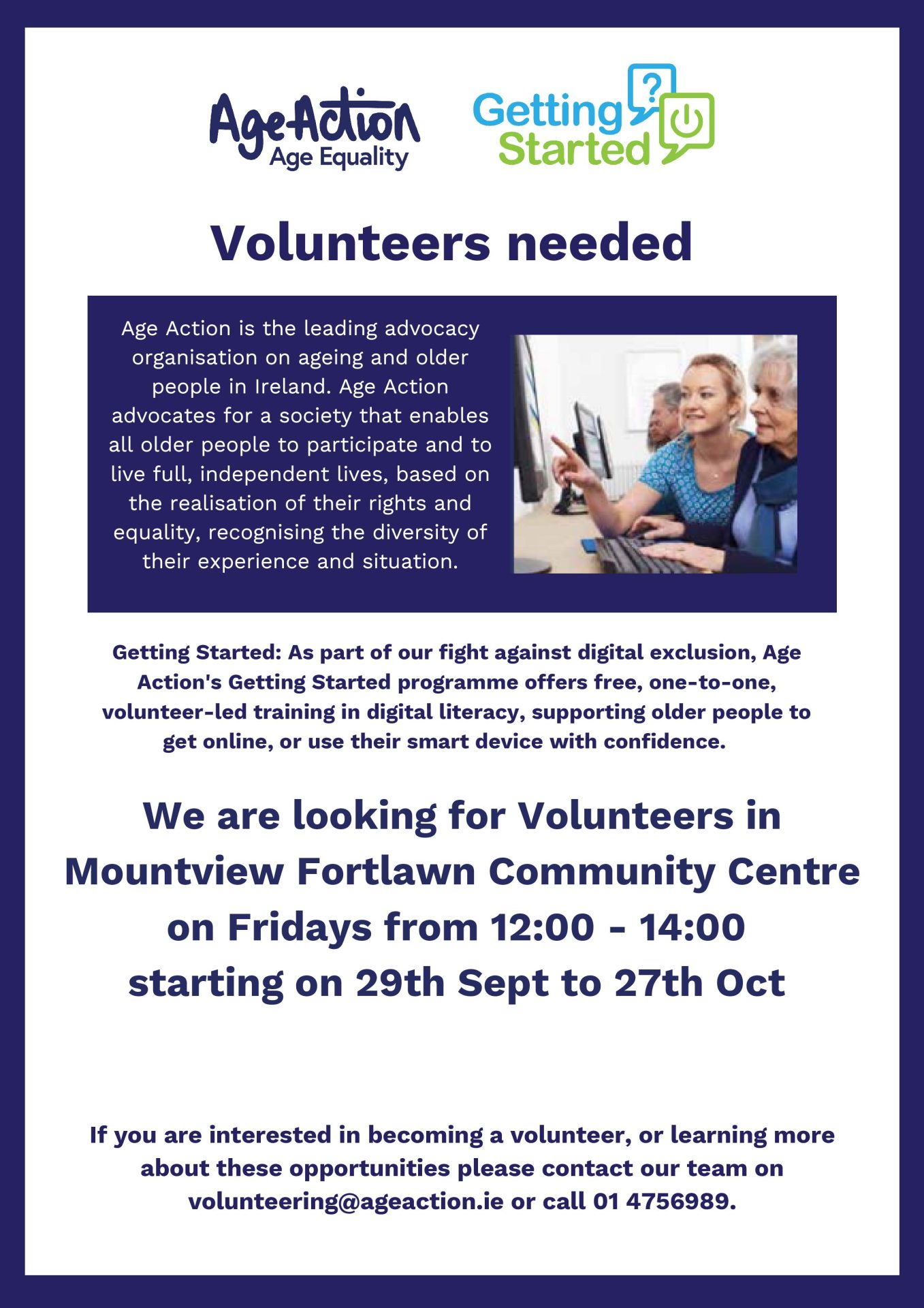 As part of their fight against digital exclusion, Age Actions Getting Started programme offers free, one to one volunteer-led training in digital literacy, supporting older people to get online, or use their smart device with confidence.
Age Action are looking for volunteers to facilitate this programme, taking place Fridays from 12 midday to 2.00pm in Mountview Fortlawn Community Centre from the 29th of September to the 27th of October(every Friday between these dates).
If this would be of interest to you or would like to find out more information contact or call 01 475 6989.
Donabate Portrane Community Centre Sings for All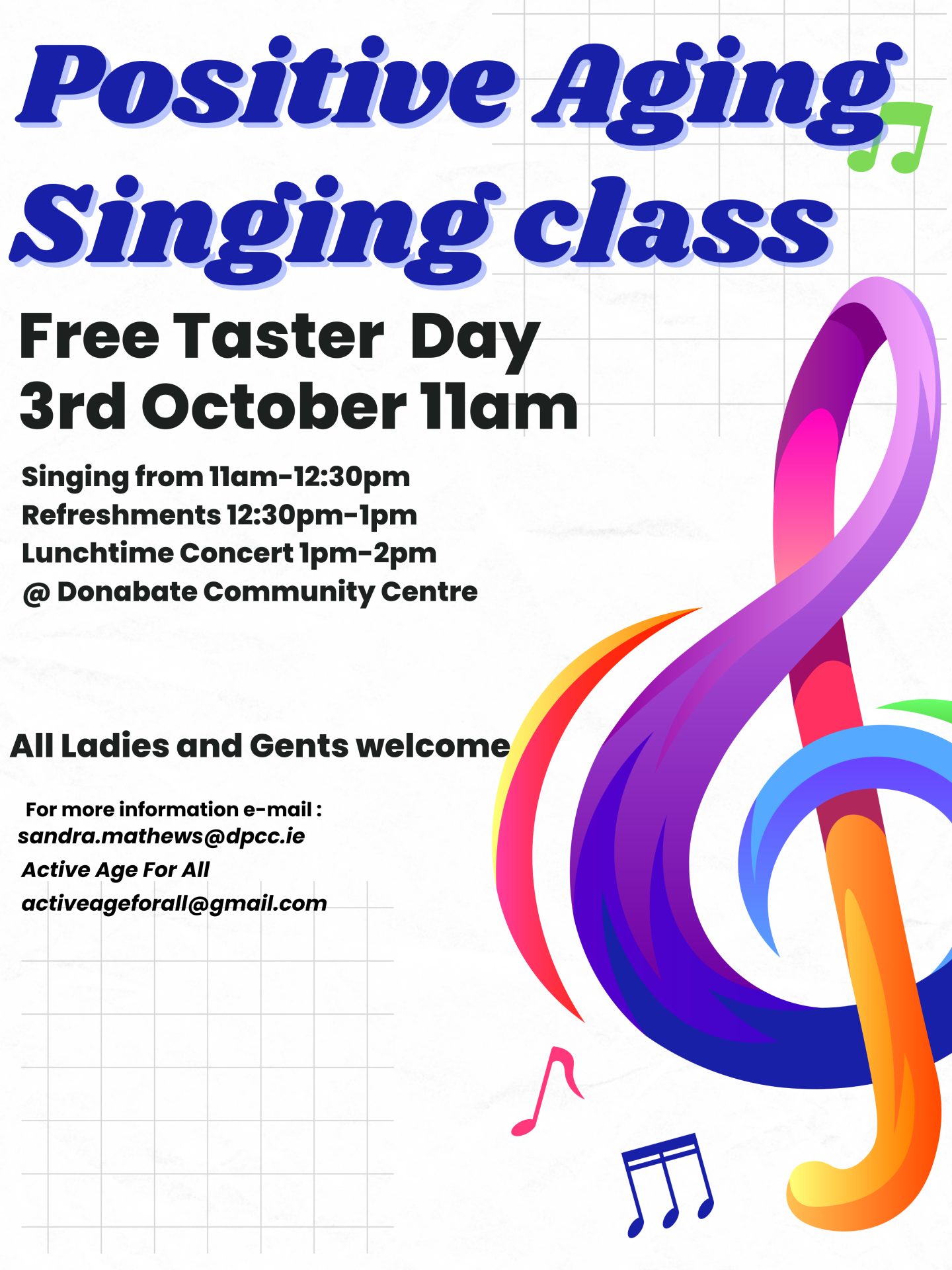 Donabate Portrane Community Centre are holding a Donabate Sings For All -Singing Class taster day Tuesday the 3rd October from 11.00am-2.00pm 
Refreshments will be served followed by Lunchtime Concert 1.00pm-2.00pm. All Welcome to attend.