MORE THAN 70 local artists and photographers gathered this year at the Baldoyle Community Hall for the Annual Art Exhibition where record sales were achieved. Rory O'Byrne, Director of Fingal County Council Arts Department, judged the "Best in Show" competition which is the highlight of the event each year. "This was Baldoyle Community Hall's biggest Art and Photography
Exhibition to date," said Heidi Bedell, Manager of the Baldoyle Community Hall, "the talent and
creativity has been extraordinary, and it's been great to be able to contribute to the wonderful work of the St. Francis Hospice."
The Art Exhibition is a community event held at the end of June every year by the Baldoyle Forum and 2022 recorded the highest ever sales resulting in the largest donation so far. Gene Murphy, a longtime volunteer with the St. Francis Hospice, was delighted to accept the cheque on behalf of the organisation. He thanked the Baldoyle Community Hall and spoke of how the St. Francis Hospice depended on public support to run and how much that support is appreciated. The next Annual Art Exhibition will be held on 24th and 25th June 2023. To find out more about this and other events at the Baldoyle Community Hall you can check out the Baldoyle Forum website – www.baldoyleforum.ie or contact Liz at
Updated Fundingpoint information
The latest Fundingpoint publication has been released for October – November 2022. The Fundingpoint Local Digest provides up-to-date funding information for nonprofits in
the Fingal County Council area. Funding sources reflect both local and national funding
opportunities. The bi-monthly Fundingpoint Local Digest is brought to you by Fingal County Council and The Wheel (www.wheel.ie).
Please feel free to download or reading the Fundingpoint pdf below.
Pumpkin Carving Workshop in Baldoyle 28th Oct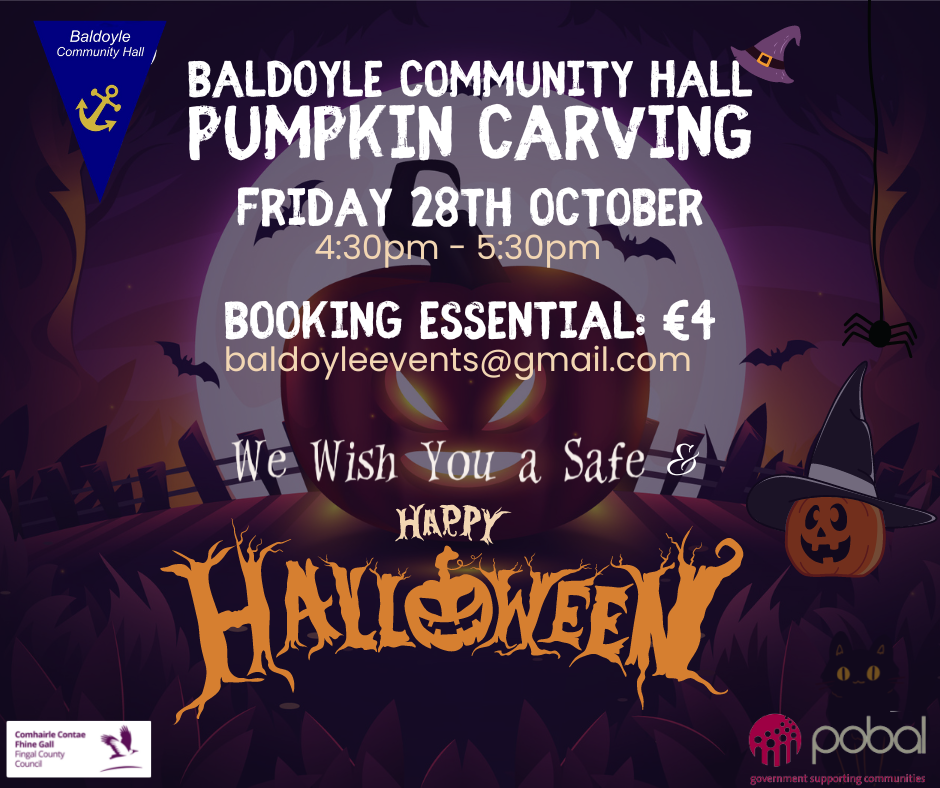 Baldoyle Community Hall are delighted to announce their annual Pumpkin Carving event which is taking place on the 28th October, 2022, from 4.30pm to 5.30pm. All ages are welcome! Adults and children can learn how to carve and prepare a pumpkin safely. You get to choose your own large pumpkin and have lots of fun!