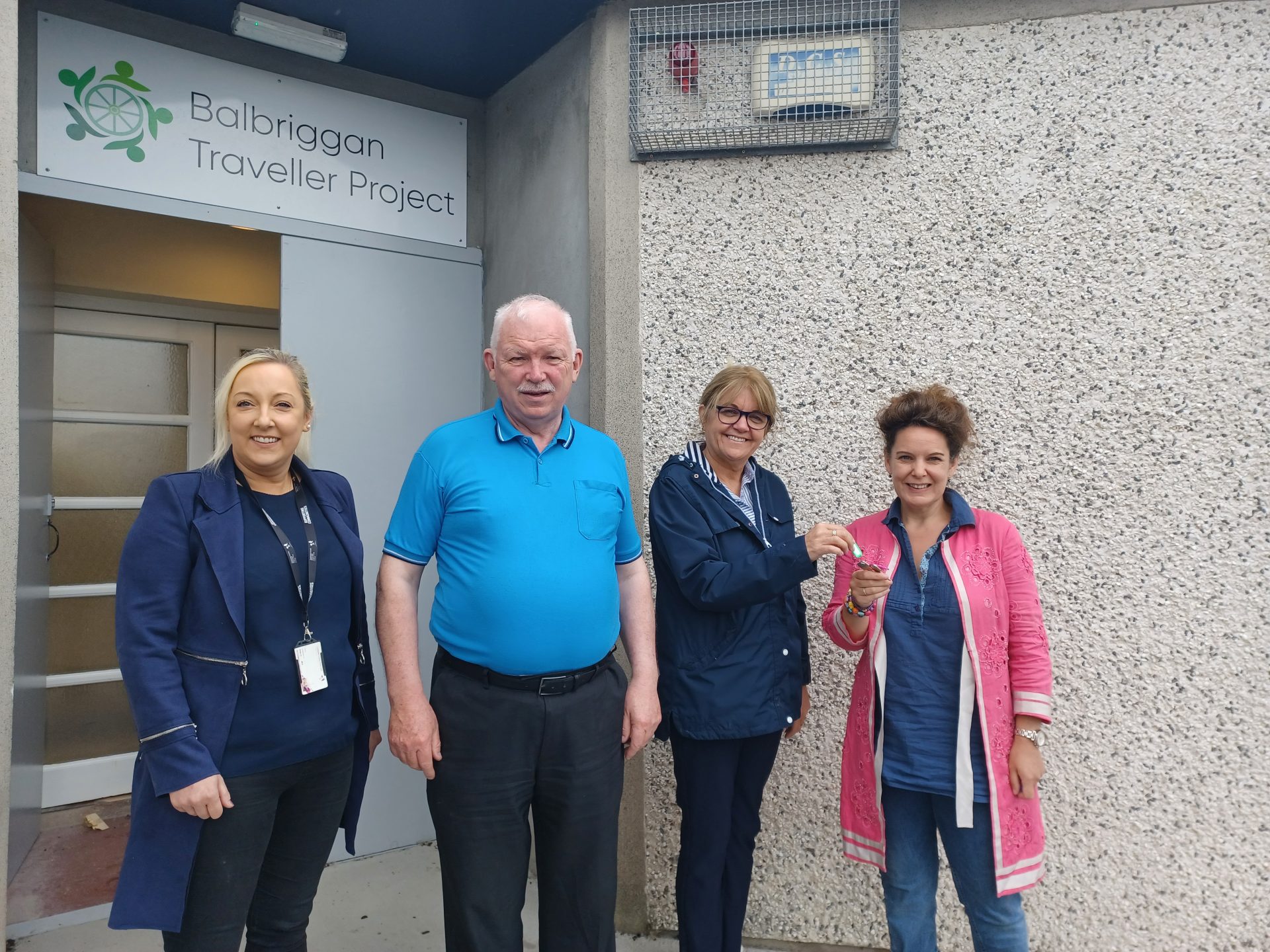 Facilities Unit welcomes Balbriggan Traveller Project
Balbriggan Traveller Project have officially become the licence holders of a Fingal County Council Community Facility. The Community Development Office's Community Facilities Management Support Unit met with the Project on August 18 to hand over the keys to the Matt Lane Facility in Balbriggan, North Co. Dublin. The newly refurbished facility has a hall space, office space, meeting rooms and a kitchen area and it will help the Balbriggan Traveller Project serve the needs of the Traveller community in the surrounding area of North Fingal.
Balbriggan Traveller Project Co-ordinator Sinéad Burke and Chairperson Eamon McCann were present for the handover from FCC Senior Community Development Officer from the CFMSU Janet Ivers. Also present was Leah Walshe, FCC Community Development Officer for the Balbriggan Area. The Matt Lane Facility will also become the 34th centre under receiving assistance from the CFMSU and newest member of the Fingal Community Facilities Network.
Pobal Update
With regard to the new CSP Programme, below is a reminder of the important dates:
28th July 2022 – Online National Information Event. (Video available here)
6 & 7 September 2022 – Application Support Events (3 timeslots with one evening session) – details will be circulated in due course.
23rd September 2022 – Launch of Online Application system.
A number of documents and supports are now available to assist you to prepare for the submission of your online application;
Example application form (link)
CSP income and expenditure template 2023-2025 (link)
Answers to Frequently Asked Questions are now available online – (link)
If you have not completed the registration of your organisation's Primary Authorised User (PAU) I urge you to do so ASAP. Video guide available here. If you have any issues with this please contact client services team at or call 01 511 7222.
Please note that any queries you have regarding the application process, registering your PAU or the redesign are to be sent to our online support team (you can reach them via email or phone as listed above) so the queries can be triaged and sent to the most appropriate person to assist you.
Scaling-up Fund for Social Enterprises
In other news a Pilot Dormant Accounts Funded €1.5 million Scaling-up Fund for Social Enterprise has been launched. It is designed to improve the impact and sustainability of social enterprises that address economic, social and educational disadvantage.
The scheme, comprising of two streams, one for medium-scale capital works and the second for feasibility studies is being administered on behalf of the Department of Rural and Community Development by Pobal.
Stream 1 will provide funding for medium scale capital projects from a minimum of €40,000 up to a maximum of €100,000.
Stream 2 will provide funding for feasibility studies to social enterprises. Grants of up to 80% of the total cost of the study will be provided, up to a maximum of €10,000.
Further details can be found on the website here. Applications open at 10am on 2nd August 2022 and close at 3pm on 15th September 2022.
Free Board Member Training from The Wheel
Many of us hope to one day to serve as a voluntary board member for an organisation we care passionately about. Well, to help you prepare for this admirable ambition, we invite you to join us for our upcoming The Role of the Board – Understanding the Basics webinar.
Taking place on Tuesday, 20 September (10am – 11am), this free members-only webinar will cover the basics of everything you need to know to fulfil your potential as a voluntary board member.
Led by Lynn Simpson, The Wheel's Training & Advice Manager, specific topics to be covered include:
The foundational role of good governance
The board's specific governance duties
The legal responsibilities of the board under both the Companies Act 2014 and the Charities Governance Code.
There's a lot you can learn in one dedicated hour.
Register your free spot here.
https://www.wheel.ie/training/2022/09/role-board-understanding-basics-webinar