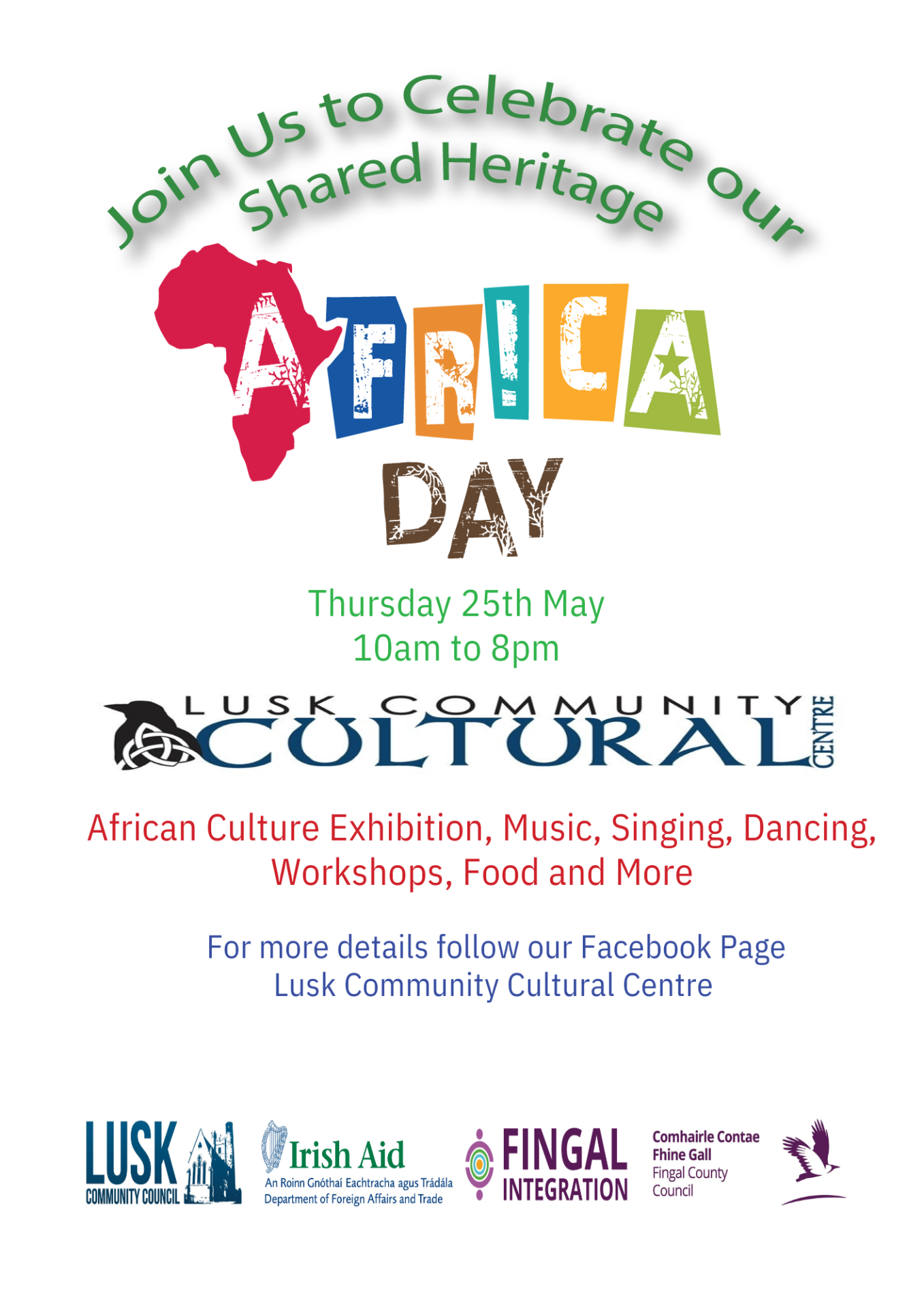 Lusk Community Council are inviting you to join in celebrating Africa Day with music, food and lively discussion on Thursday May 25th at the brand new Lusk Cultural Centre.
The event will be open from 10.00am where you can view an exhibition of African art and artefacts on display with the official launch by the Mayor of Fingal to take place at 12 noon.
The afternoon will feature an African Drumming workshop by the Akano Rhythm brothers and guest speakers from many different backgrounds as the Lusk Community celebrate and explore the theme of "Our Shared Heritage".
The day will conclude with a performance from the local Redeemed Christian Church of God choir at 7.00pm.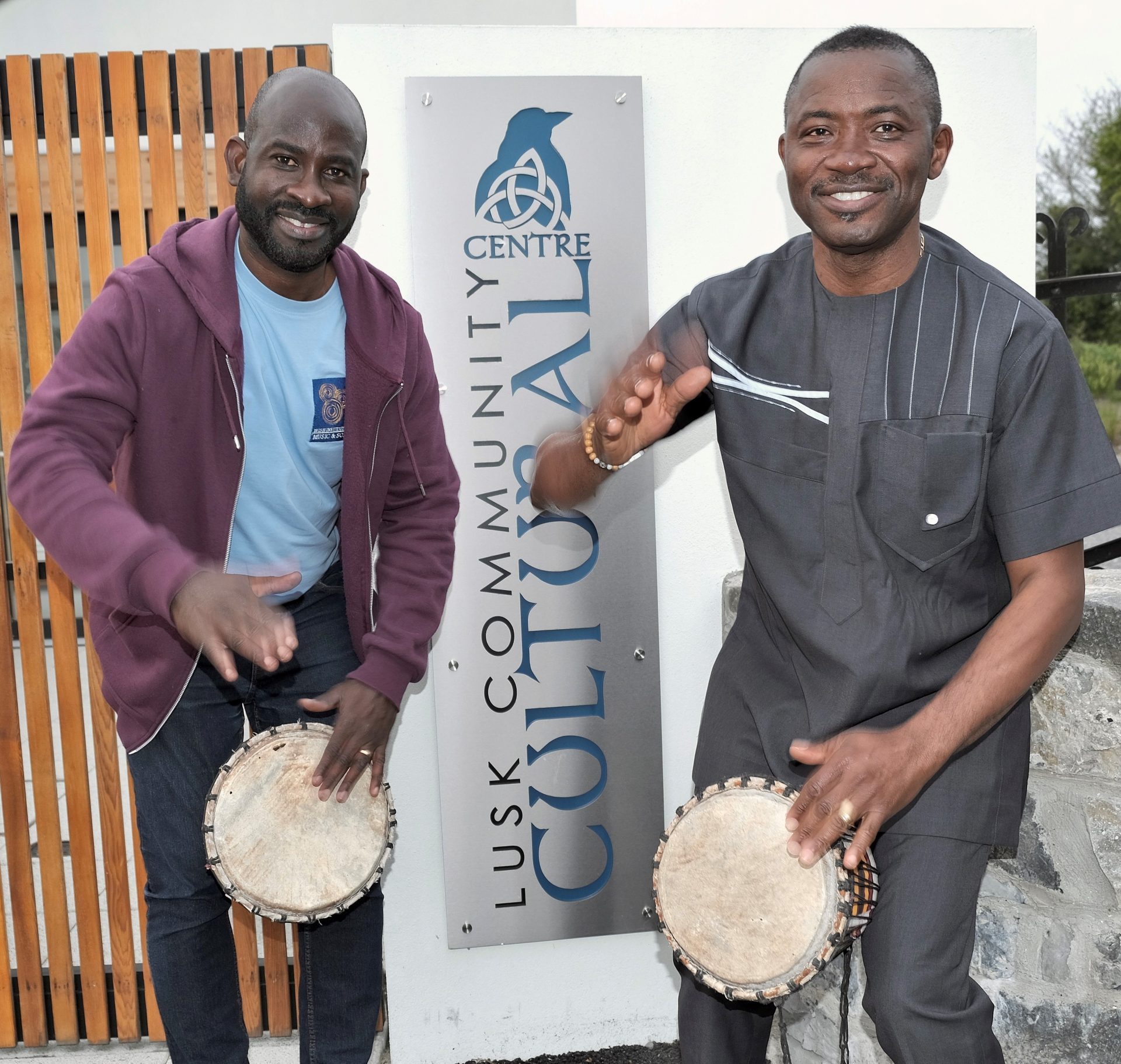 Keen to be Green – Water conservation visits May 2023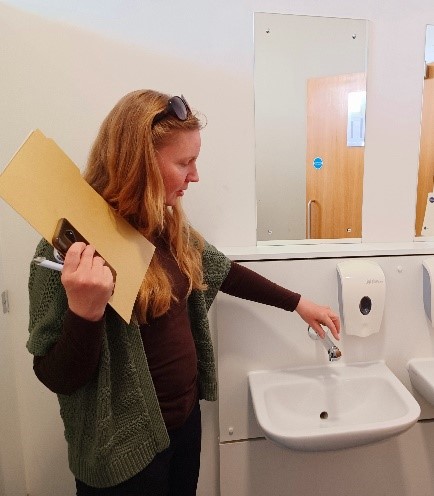 Continuing to support our community centres to lead the way and drive forward the aims and objectives of the Keen to be Green facilities programme, implementing and maintaining Water Conservation measures was the focus in May. With a visit to each of the centres committed to Waste Management, Energy/Water Conservation and the aims and objectives of the Keen To Be Green Charter Sinead Fox the FCC  Environmental Officer Awareness Officer has been completing water audits.
Whilst initial results are reassuring and it's encouraging to see some centres embrace water conservation and use cost- effective measures to minimise wastage, display signage and promote drinking points within the centres, there were some centres where small tweaks such as reducing taps running times and prioritizing repairs could improve existing measures. Sinead will continue to work closely with the facilities team to collate the information gathered and identify priorities that will be fed back via the Keen to be Green working group.
Corduff Resource Centre and Luttreslltown Community Centre events update
Corduff Resource Centre
Lets Play Together Corduff Games Afternoon.
Did you know playing Board Games increases brain function?
Playing stimulates brain areas that are responsible for memory formation and complex thought processes for all ages. Engaging in play assists in practicing essential cognitive skills, such as decision making, higher level strategic thinking, and problem solving.
Corduff Resource Centre will be holding Board Games afternoon in their Welcome Room every Tuesday 2.00pm – 4.00pm. Come along and play some board games such as Scrabble, Chess, Draughts, Snakes and Ladders in a relaxing, fun environment. Recreate the good memories of playing Battle Ships and Connect 4 whilst having a nice free cup of Tea or Coffee.
Lets play Together is completely free and no need to book, just come along any Tuesday between 2.00pm – 4.00pm. Details in poster below.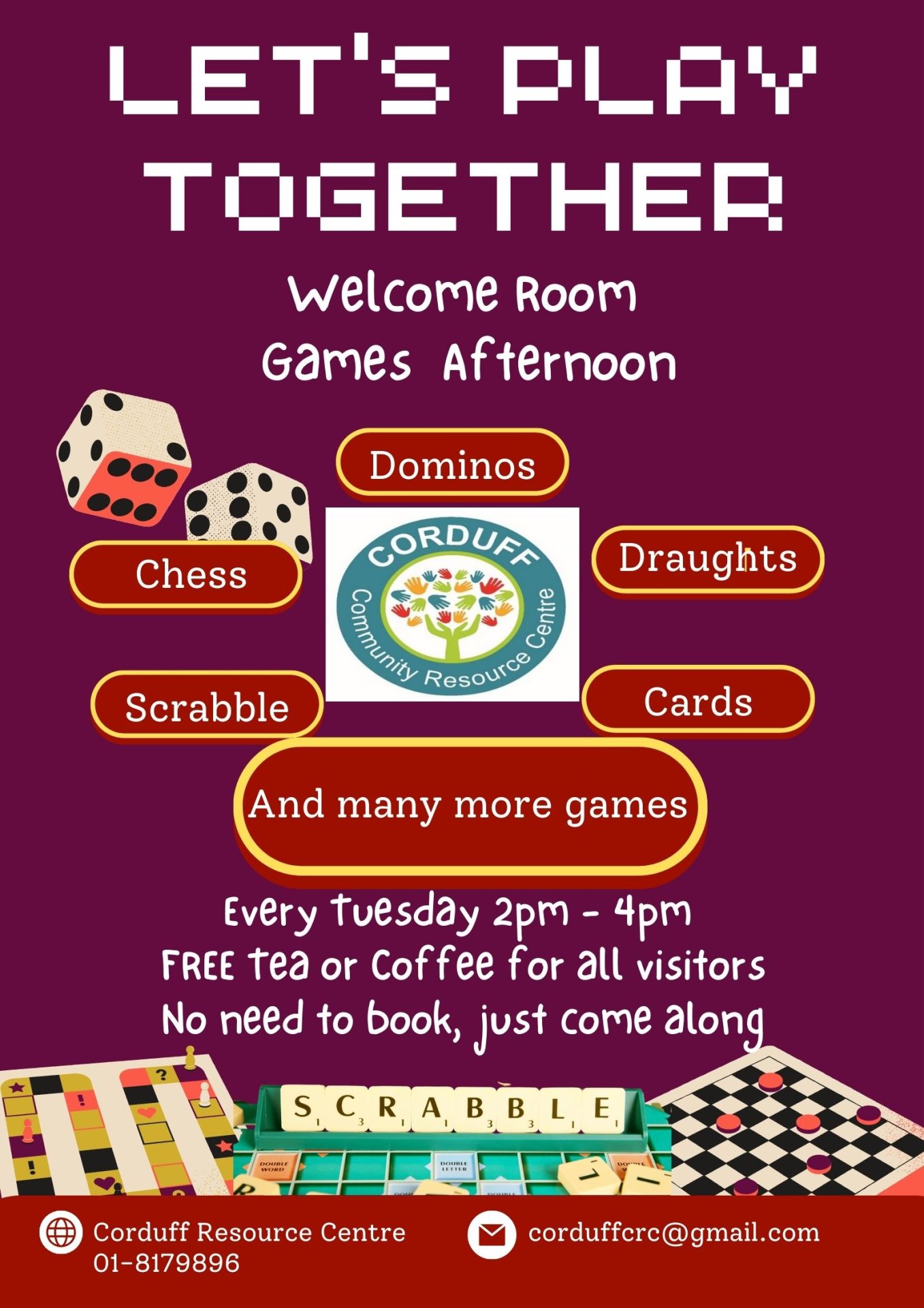 Luttrellstown Community Centre
Pickleball is back in Luttrellstown Community Centre!
Due to the interest shown on the Pickleball open day in April, the centre have decided to put on another 2 open days in May. These will be held on May 20th and 27th of May.
You can come for one, or the 2 days, and its completely free.
Call the centre on 01-8179896 to register or email . All details in poster below.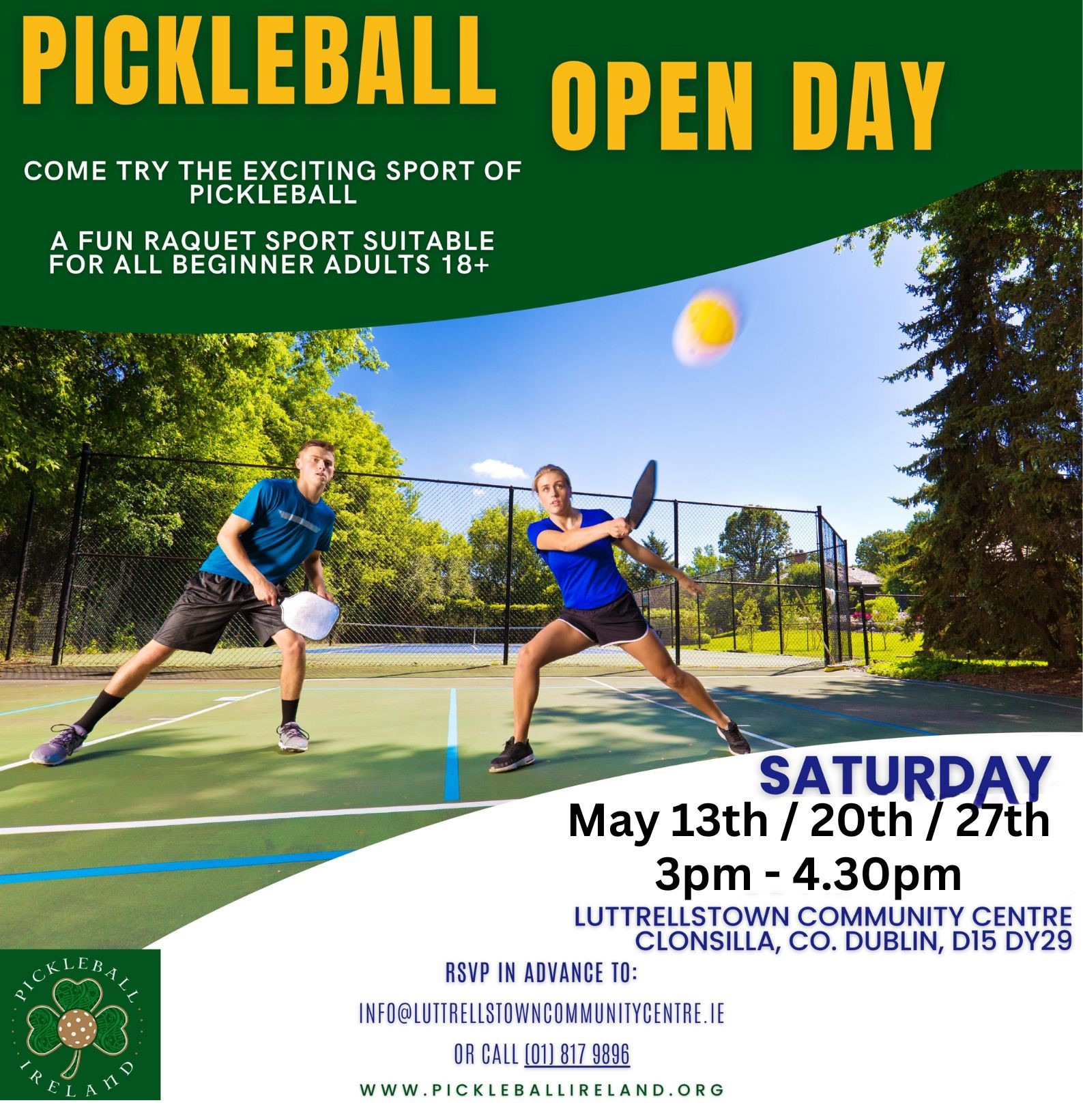 Mountview Fortlawn Community Youth and Sport Hub employment opportunities.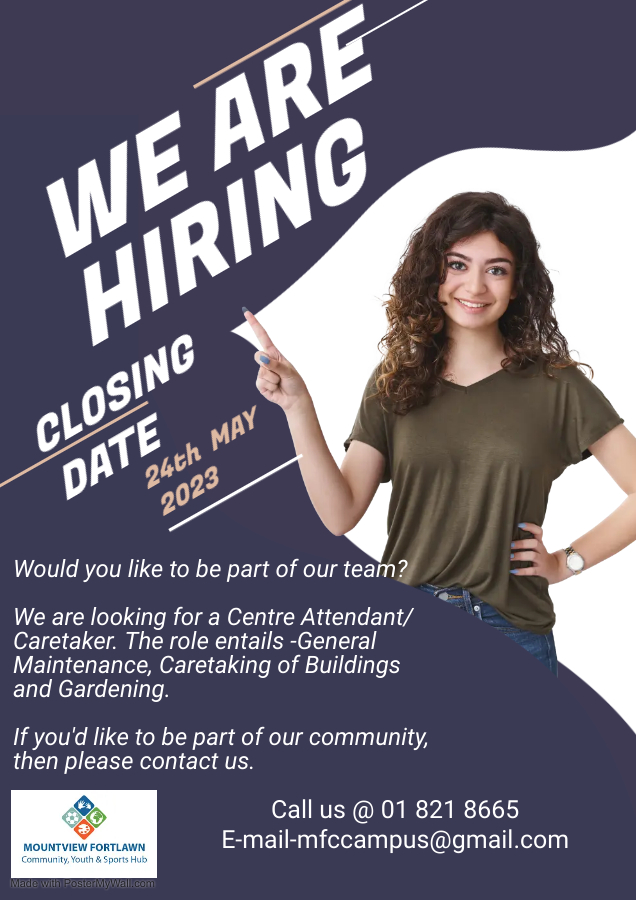 Mountview Fortlawn Community Youth and Sports Hub are seeking new people to join their team. Call 01 8218665 or Email: for further details. Information in the posters above.