Future board leaders programme 2023


Boardmatch Ireland are reaching out to let you know about their new Board Placement Programme – Future Board Leaders 2023. This programme has been designed in partnership with The Leadership Academy (part of The Wheel).What is Future Board Leaders?

The Future Board Leaders Programme (pilot 2023) will focus on increasing the engagement of traditionally underrepresented voices on boards. As well as recruiting and supporting these voices, they will be actively working with the associated charities to develop their trustee diversity in a supported way.

How will it work?
Boardmatch will use their extensive network and expertise to identify a number of charities and not-for-profits looking to make real change to their organisations through diversifying their boards.
The Leadership Academy will begin recruiting people interested in joining a Board as a charity trustee.
They will connect interested boards with candidates and when they successfully match a Board and candidate, those participants will join the board and attend their co-designed training programme. (Please note that registering your interest does not guarantee your charity a place on the programme as there are only 20 candidate places available.)
Why should your Charity take part?

In order for Irish charity boards to be fully representative of their communities and stakeholders, boards should embrace an open board recruitment process, welcoming a wide range of prospective candidates. The Future Board Leaders Programme will introduce you to a new candidate that you may have not connected with elsewhere. This candidate will be capable, interested in your organisation, and have completed accredited governance training.
Please note: All participating charities must follow a supported induction process for their new trustee. All participating charities must also provide an existing trustee to mentor their new trustee for their first year.
Interested?

Click here to express your interest
Click here to view the Future Board Leaders Information Pack. 

For more information or for any queries, please email . 

Mountview Gets Moving with eCargo Rental from Fingal County Council and Bleeper
Fingal County Council, in partnership with service provider Bleeper, have launched a brand new public eCargo bike service based at Mountview Community Centre, Dublin 15.
An eCargo bike is a battery power assisted pedal bike with a clever feature in front; a large, aerodynamically designed, lidded box. The box has a carrying capacity of 350 litres and is suitable for moving items such as sports training gear, small items of furniture or simply a large load of grocery shopping.
Fingal County Council's Director of Environment, Climate Action and Active Travel, David Storey says cargo bikes can provide the convenience and capacity that non-drivers may have traditionally struggled with. 'We know that fewer young people are learning to drive or choosing to own a car and we believe that Active Travel services such as this eCargo bike can plug the gap that people may experience without a motor vehicle and make the choice to switch to Active Travel easier. Fingal County Council is working hard to provide a network of cycling routes and safer cycle lanes across the County and by pairing that work with services like bike sharing we are opening up a world of cycling opportunities for everyone in the community.'
Borrowing the eCargo bike is a simple process. The bike is stored in a 'bike bunker' at Mountview Community Centre and can be unlocked for a small €3 fee, which covers 120 minutes of use. After 120 minutes, a fee of €0.05 per minute is charged. The eCargo bike must be returned to its original location at the end of your trip and to hire the eCargo Bike you must download the Bleeper app and set up an account. Users must be over the age of 18 to set up a Bleeper account. To access the eCargo Bike Bunker, users will also need to download the EVVA Airkey App, which will enable them to use the NFC Reader with their phone.
This eCargo bike has been purchased by Fingal County Council and maintenance and bookings will be handled by partner Bleeper.
Hugh Cooney, CEO of Bleeper Bike, says cargo bikes can offer a convenient and affordable alternative to car use for many. 'Our eCargo bikes take advantage of the latest technology, they are lightweight and easy to manoeuvre. Anyone who can cycle a bike can use a cargo bike and being able to do the 'big shop' for example without the need for a car can really free you up to choose the healthy, climate friendly option of cycling.'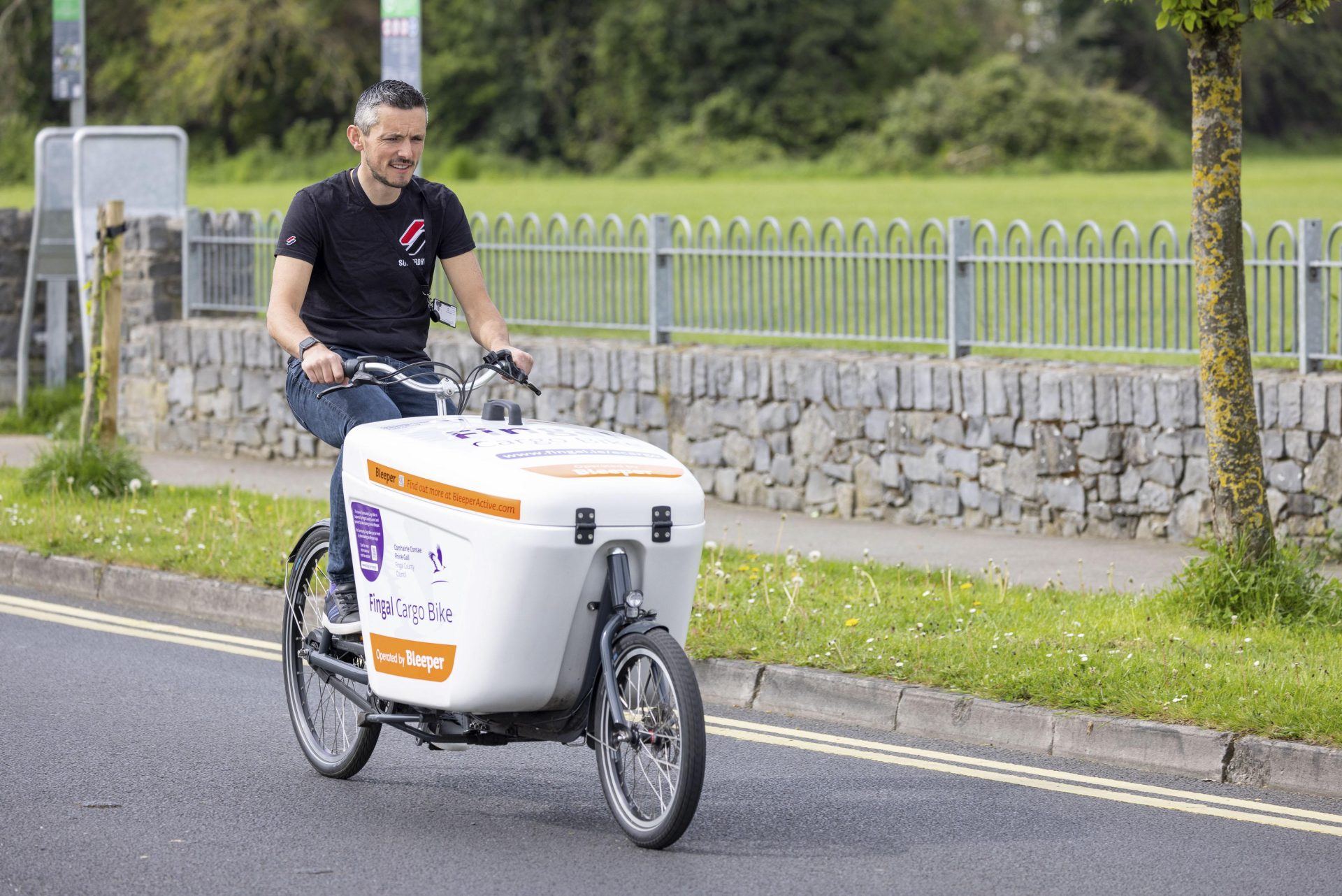 Diversity and Inclusion masterclass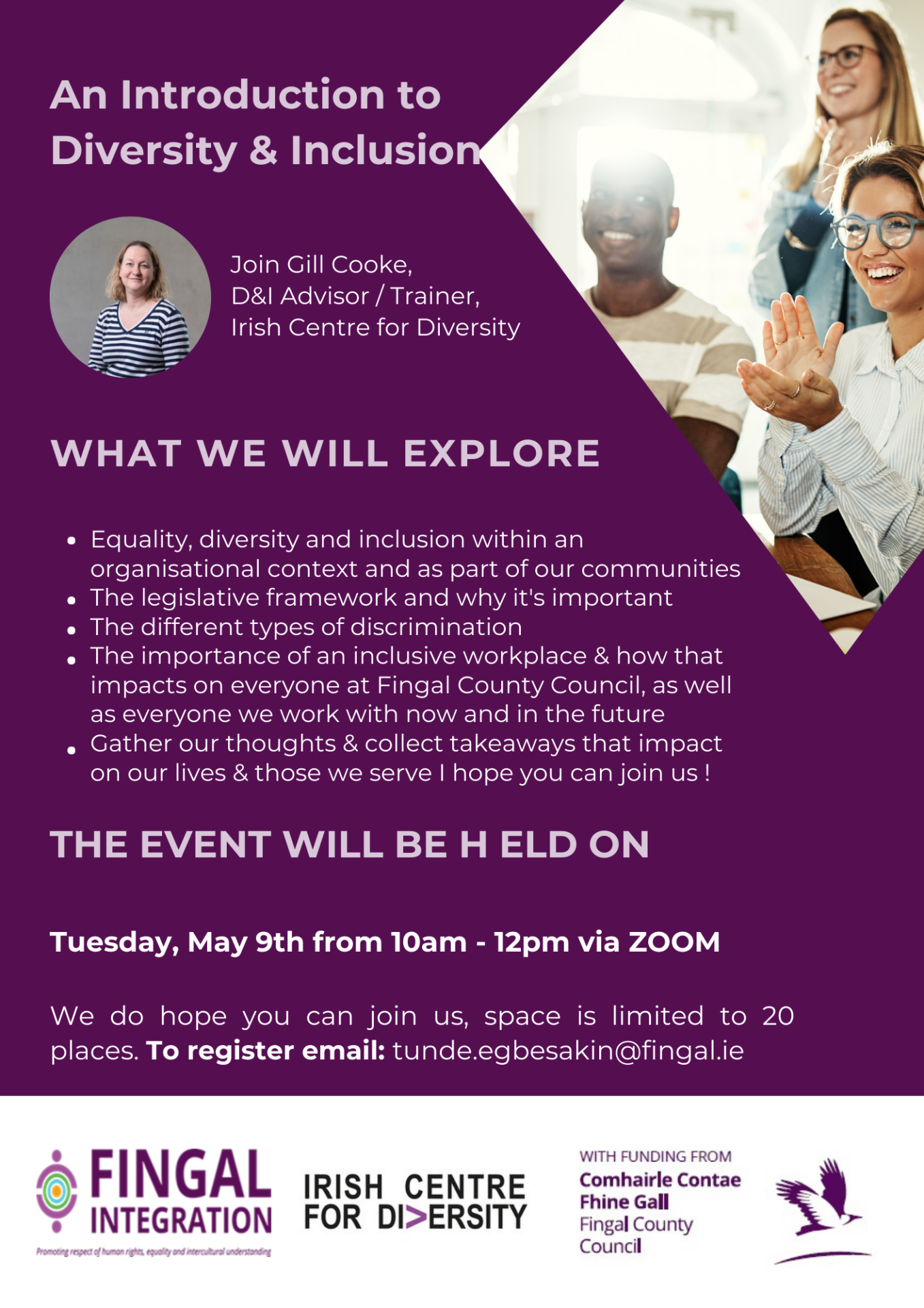 Fingal Integration team in collaboration with Irish Centre for Diversity is running an exciting and interactive 2-hour Masterclass on Diversity and Inclusion on Tuesday, 9th May, 10 am-12noon via zoom. Places are limited! To register, send an email to .  See the poster for more information.
Bike Week 2023 is coming!
Bike Week is a celebration and promotion of the benefits of cycling. This year Bike Week will take place from Saturday 13th to Sunday the 21st of May. We're looking forward to bringing you an exciting programme of events for families, older people, schools, people with disabilities and employers.
Check out our events listed on the website here and sign up now for any events that require booking to avoid disappointment!

Tyrrelstown Community Centre Ladies group invitation
Attention Ladies!
Tyrrelstown Community Centre are seeking women that may be interested in forming a Ladies group in the Tyrrelstown area. You may be interested in a social get together, a cup of tea and a chat, exercise classes, crafts or just getting to know your neighbours in the area. With enough interest help will be given in setting up the group from the Tyrrelstown Community Centre along with support from the Community Development Officer for Dublin 15 . All information and contact details are in the poster above.
HSE update
A digital partner pack has been created on the HSE's website and continues to be updated, it can be downloaded online at:
https://www.hse.ie/eng/services/news/newsfeatures/covid19-updates/partner-resources/
The digital partner pack contains:
An information booklet on Coronavirus COVID-19 available in an easy read version and various languages.
The most up to date posters on Coronavirus COVID-19 (please display and share these as widely as you can, and please replace any previous posters that you might have used with the updated version)
Videos that you can share and display
Watch Bernard Gloster, CEO of the HSE talk about the importance of this piece of human rights legislation.
Leaflets, social media assets and more.